Australian Service Personnel, Photograph Albums, 2nd Tasmanian Imperial Bushmen, Contents
Topic: AAC-Photo Albums
Australian Service Personnel
Photograph Albums
2nd Tasmanian Imperial Bushmen, Contents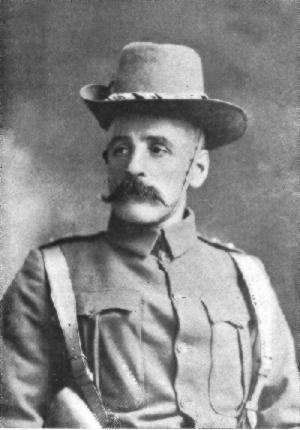 Lieutenant Colonel Edwin Thomas WATCHORN
The
2nd Tasmanian Imperial Bushmen
Album contains the photographs of nearly all the men who were listed as having embarked for service to South Africa with this unit. Ten men are listed who did not embark but had their photographs included in the publication.
The 2nd Tasmanian Imperial Bushmen embarked from Hobart, Tasmania on 27 March 1901 and returned to Tasmania on 25 June 1902.
The photographs were extracted from John Bufton, Tasmanians in the Transvaal War, Launceston, 1905, pp. 334 – 342.
Notes about the Collection:
* The quality of the pictures vary due to the nature of the original medium which was the printed surface. The page images came directly from a printed image and so tend to be blurry and grainy. That can't be helped but the images are presented as best as possible.

* The original images appeared in the John Bufton, Tasmanians in the Transvaal War, and consequently the art of picture publishing was not as sophisticated as today. So the original source was poor in the first place.

* The presentation of each entry is as follows:

All men - listed with their rank on embarkation, their first names if known or if unknown, the initials followed by the family name which is capitalised. Each name is linked to the photograph entry in the album.

Officers - Since they were not issued with a Service Number, they have been listed in order of rank.

Other Ranks - Listed in order of Service Number.

An alphabetical listing of Family Names follows the page lisings.

* As additional photographs come into our possession from other sources, they will be added to the end pages. The names will be also added to the alphabetical listing.
Listings per Album Page
Page 1:

Lieutenant Colonel Edwin Thomas WATCHORN

Lieutenant Frederic Royden CHALMERS

Second Lieutenant Rupert Delamere BRENT

Page 2:

Surgeon Lieutenant Charles MATTEI

Lieutenant George Fairbrass RICHARDSON

119 Private Robert George ABERY

121 Private Gordon Cyril ADAMS

122 Sergeant Frederick Vincent BREWSTER

123 Private Archibald Joseph BEVAN

124 Private George Robert BROOKS

125 Private Charles William BURTON

Page 3:

128 Private Walter George BARKER

130 Private Harry Stanley BLACKBURN

131 Corporal Richard Albert BLACKLOW

133 Shoeing Smith Phillip David BILLING

134 Private William John Samuel BYRNE

135 Private George Martin Frederick BREWER

138 Private William Robert CASSIDY

Page 4:

139 Shoeing Smith Herbert Norman COLEMAN

141 Corporal Henry Douglas CHEPMELL

142 Private William Cameron CARLIN

143 Lance Corporal Charles Ernest CHILCOT

144 Private Newell Hay COLEMAN

145 Private Robert Golding COOLEY

147 Private Edward Allan Michael CURTAIN

151 Private William Michael Henry DOBSON

Page 5:

152 Private John William EDWARDS

153 Private Percy Alexander EMERY

155 Private Frederick William FOREMAN

157 Private Albert Ernest FERGUSSON

158 Private Frederick Wilbraham FORD

159 Private Tom Tierney FERGUSON

160 Corporal Wilfred James FACY

163 Private Harold William GREER

Page 6:

165 Private Harold William GEE

167 Private Charles Gresham D'Oyley GROOM

169 Trumpeter Frederick Thomas Henry GOUCHER

170 Private Elmslie Fayrer HEWITT

171 Private Albert Ernest HUNTER

172 Private Leonard Percy HUTTLEY

173 Private Robert Edward Morrisby HULL

175 Private Arthur Reginald HEWITT

176 Private Thomas Charles Herbert HOWARD

Page 7:

177 Private George William HILL Picture 1

177 Private George William HILL Picture 2

178 Lance Corporal Cecil Archibald HOLMWOOD

179 Private Ronald Wilberforce HARRISON

180 Private George Francis HARRISON

181 Private Harold Percival JONES

182 Private Thomas Foster JARDINE

183 Private John Martial JOYCE

Page 8:

187 Private Joseph Edward KIRK

188 Private Albert Walter Frederick LUTRELL

191 Private William Henry LYNE

192 Private Thomas Henry LESLIE

193 Corporal Douglas Morton LYNE

194 Lance Corporal Sydney Thomas LAUGHTON

Page 9:

198 Private Raymond Clark MORRISBY

200 Private Albert Joseph MONSON

201 Private Joseph Harland MARONEY

202 Private Walter Archibald MCINTYRE

203 Private David James MURRAY

204 Corporal Gilbert Langdon MCINTYRE

205 Private Thomas Henry MARSDEN

206 Private Cyril Lakeland MADDOX

208 Private John Albert MANSER

Page 10:

210 Private Claude Anthony NICHOLSON

212 Private Frank Hedley C OLDHAM

215 Private Francis Neville PAGE

218 Private Richard Arthur PAUL

219 Private Arthur Charles PEGG

221 Quartermaster Sergeant Edward William ROBINSON

Page 11:

223 Private James Tasman REARDON

225 Private Ernest Florestan RAMSKELL

227 Private William Charles Stewart SCOLL

228 Private Frank Ernest SIMMONDS

231 Private James Robert STREET

232 Private Robert Edward STREET

Page 12:

236 Private Richard Horace THOMPSON

237 Private Alfred Sorell TUCKER

239 Private Walter Alfred Charles TAYLER

240 Trumpeter Frank William THOMPSON

242 Private William George TUCKER

243 Shoeing Smith Vernon Samuel THOMAS

244 Private Alfred Henry VINCENT

246 Private Percy Augustus WILLIAMS

Page 13:

248 Private Francis Hyld WILLIAMS

250 Farrier Sergeant Charles William WINFIELD

252 Private John Edwards WARBURTON

255 Lance Corporal Robert Benjamin WILSON

255 Private Reginald Collins WILSON

257 Private Thomas Arndel YOUL

259 Trumpeter Sergeant Archibald COOMBE

Page 14:

263 Shoeing Smith Walter BLACKWELL

265 Shoeing Smith Arthur BINGLEY

266 Private Leslie James CORRIGAN

266 Sergeant Major William BRUCE

269 Private Walter James CLEARY

271 Lance Corporal Alexander Arthur EVANS

Page 15:

272 Lance Corporal William Alfred EDWARDS

275 Private Algernon Ashbury HUNT

276 Private George Gerald HILDYARD

278 Corporal Arthur Erskine HUNT

282 Private Frederick Nelson IBBOTSON

Page 16:

283 Private James William JOHNSON

284 Private Hedley Mitchell JOHNSON

285 Private Joshua James JOYCE

287 Trumpeter Jacob Archibald KING

288 Private Norman Edward LOANE

289 Private Alexander George LYALL

290 Sergeant William James MANNING

Page 17:

294 Private William Thomas MOYLE

300 Private William Henry NORTH

306 Private Dudley Harold PAGE

308 Corporal Julian Lambert Russell PAGE

310 Private Montague Claude RICHARDSON

Page 18:

313 Corporal Oscar Herbert SHERRIN

314 Private Kenneth Henry STEWART

315 Private William Hobart SALTER

317 Private William Edmund SCRITCHLEY

319 Private Robert William SCADON

320 Private Roland Thomas SUTTON

321 Private Alfred Henry SCOTT

324 Private Albert Edward TURNER

Page 19:

329 Private John William WILSON

330 Private Francis William WRIGHT

331 Private Edward Henry WHITE

333 Private William Albert WALLER

334 Colour Sergeant Alfred James Parnell SUCHE

340 Private Archibald James GRANT

344 Private Francis Gilbert COWELL

Page 20:

350 Private James Laurence Armitstead MOORE

355 Private Stephen Mears IBBOT

356 Private Edward Ernest HAINES

358 Private Joseph Clarence JOYCE

Page 21:

Page 22:
Alphabetical Listing
119 Private Robert George ABERY

121 Private Gordon Cyril ADAMS

128 Private Walter George BARKER

123 Private Archibald Joseph BEVAN

133 Shoeing Smith Phillip David BILLING

265 Shoeing Smith Arthur BINGLEY

130 Private Harry Stanley BLACKBURN

131 Corporal Richard Albert BLACKLOW

263 Shoeing Smith Walter BLACKWELL

Second Lieutenant Rupert Delamere BRENT

135 Private George Martin Frederick BREWER

122 Sergeant Frederick Vincent BREWSTER

124 Private George Robert BROOKS

266 Sergeant Major William BRUCE

125 Private Charles William BURTON

134 Private William John Samuel BYRNE

142 Private William Cameron CARLIN

138 Private William Robert CASSIDY

Lieutenant Frederic Royden CHALMERS

141 Corporal Henry Douglas CHEPMELL

143 Lance Corporal Charles Ernest CHILCOT

269 Private Walter James CLEARY

144 Private Newell Hay COLEMAN

139 Shoeing Smith Herbert Norman COLEMAN

145 Private Robert Golding COOLEY

259 Trumpeter Sergeant Archibald COOMBE

266 Private Leslie James CORRIGAN

344 Private Francis Gilbert COWELL

147 Private Edward Allan Michael CURTAIN

151 Private William Michael Henry DOBSON

152 Private John William EDWARDS

272 Lance Corporal William Alfred EDWARDS

153 Private Percy Alexander EMERY

271 Lance Corporal Alexander Arthur EVANS

160 Corporal Wilfred James FACY

159 Private Tom Tierney FERGUSON

157 Private Albert Ernest FERGUSSON

158 Private Frederick Wilbraham FORD

155 Private Frederick William FOREMAN

165 Private Harold William GEE

169 Trumpeter Frederick Thomas Henry GOUCHER

340 Private Archibald James GRANT

163 Private Harold William GREER

167 Private Charles Gresham D'Oyley GROOM

356 Private Edward Ernest HAINES

180 Private George Francis HARRISON

179 Private Ronald Wilberforce HARRISON

175 Private Arthur Reginald HEWITT

170 Private Elmslie Fayrer HEWITT

276 Private George Gerald HILDYARD

177 Private George William HILL Picture 1

177 Private George William HILL Picture 2

178 Lance Corporal Cecil Archibald HOLMWOOD

176 Private Thomas Charles Herbert HOWARD

173 Private Robert Edward Morrisby HULL

275 Private Algernon Ashbury HUNT

278 Corporal Arthur Erskine HUNT

171 Private Albert Ernest HUNTER

172 Private Leonard Percy HUTTLEY

355 Private Stephen Mears IBBOT

282 Private Frederick Nelson IBBOTSON

182 Private Thomas Foster JARDINE

284 Private Hedley Mitchell JOHNSON

283 Private James William JOHNSON

181 Private Harold Percival JONES

183 Private John Martial JOYCE

358 Private Joseph Clarence JOYCE

285 Private Joshua James JOYCE

287 Trumpeter Jacob Archibald KING

187 Private Joseph Edward KIRK

194 Lance Corporal Sydney Thomas LAUGHTON

192 Private Thomas Henry LESLIE

288 Private Norman Edward LOANE

188 Private Albert Walter Frederick LUTRELL

289 Private Alexander George LYALL

193 Corporal Douglas Morton LYNE

191 Private William Henry LYNE

206 Private Cyril Lakeland MADDOX

290 Sergeant William James MANNING

208 Private John Albert MANSER

201 Private Joseph Harland MARONEY

205 Private Thomas Henry MARSDEN

Surgeon Lieutenant Charles MATTEI

204 Corporal Gilbert Langdon MCINTYRE

202 Private Walter Archibald MCINTYRE

200 Private Albert Joseph MONSON

350 Private James Laurence Armitstead MOORE

198 Private Raymond Clark MORRISBY

294 Private William Thomas MOYLE

203 Private David James MURRAY

210 Private Claude Anthony NICHOLSON

300 Private William Henry NORTH

212 Private Frank Hedley C OLDHAM

306 Private Dudley Harold PAGE

215 Private Francis Neville PAGE

308 Corporal Julian Lambert Russell PAGE

218 Private Richard Arthur PAUL

219 Private Arthur Charles PEGG

225 Private Ernest Florestan RAMSKELL

223 Private James Tasman REARDON

Lieutenant George Fairbrass RICHARDSON

310 Private Montague Claude RICHARDSON

221 Quartermaster Sergeant Edward William ROBINSON

315 Private William Hobart SALTER

319 Private Robert William SCADON

227 Private William Charles Stewart SCOLL

321 Private Alfred Henry SCOTT

317 Private William Edmund SCRITCHLEY

313 Corporal Oscar Herbert SHERRIN

228 Private Frank Ernest SIMMONDS

314 Private Kenneth Henry STEWART

231 Private James Robert STREET

232 Private Robert Edward STREET

334 Colour Sergeant Alfred James Parnell SUCHE

320 Private Roland Thomas SUTTON

239 Private Walter Alfred Charles TAYLER

243 Shoeing Smith Vernon Samuel THOMAS

240 Trumpeter Frank William THOMPSON

236 Private Richard Horace THOMPSON

237 Private Alfred Sorell TUCKER

242 Private William George TUCKER

324 Private Albert Edward TURNER

244 Private Alfred Henry VINCENT

333 Private William Albert WALLER

252 Private John Edwards WARBURTON

Lieutenant Colonel Edwin Thomas WATCHORN

331 Private Edward Henry WHITE

248 Private Francis Hyld WILLIAMS

246 Private Percy Augustus WILLIAMS

329 Private John William WILSON

255 Private Reginald Collins WILSON

255 Lance Corporal Robert Benjamin WILSON

250 Farrier Sergeant Charles William WINFIELD

330 Private Francis William WRIGHT
Further Reading:
2nd Tasmanian Imperial Bushmen
Australian Service Personnel, Photograph Albums
Battles where Australians fought, 1899-1920
---
Citation:
Australian Service Personnel, Photograph Albums, 2nd Tasmanian Imperial Bushmen, Contents
Posted by Project Leader at 12:01 AM EADT
Updated: Friday, 2 September 2011 10:00 PM EADT