1st Battalion Australian Commonwealth Horse Tasmania, Outline
Topic: BW - Tas - 1ACH
1st ACH (Tas)
1st Battalion Australian Commonwealth Horse Tasmania
Outline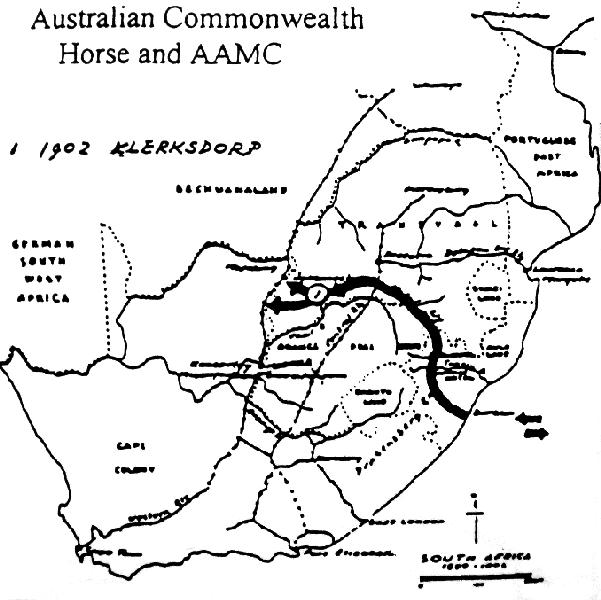 Map illustrating the activities of the Australian Commonwealth Horse in South Africa, 1902.
[From: Chamberlain, M., The Australians in the South African War 1899-1902, Canberra, 1999.]
In 1911, Lieutenant-Colonel P. L. Murray, produced a marvellous Boer War reference detailing all the contingents sent from Australia to South Africa, giving a brief history of the formation and finally, listing all the soldiers who saw service in South Africa with that unit. The book was called, Official Records of the Australian Military Contingents to the War in South Africa. It is now the standard reference and starting place for any person interested in pursuing information about Australian involvement in the Boer War.
Murray, P. L., Official Records of the Australian Military Contingents to the War in South Africa, p. 568.
First Battalion Australian Horse Tasmanian Half Unit.

Tasmania furnished one company (or more strictly one half-company) as her quota to the First Battalion, Australian Commonwealth Horse. For organization, equipment, pay, etc., vide that Battalion, New South Wales, page 166. Mere selected were required to be good shots and good horsemen; those of previous service in South Africa had preference if medically fit. Married men were not enlisted and unmarried officers had preference, other conditions being equal.

Establishment :- 1 captain, 2 subalterns, 1 sergeant-major, 1 quartermaster sergeant, 2 sergeants, I farrier-sergeant, 2 abasing-smiths, 1 saddler, 1 bugler, 3 corporals, 47 privates, including 2 paid lance-corporals; total, 62. There were not any Tasmanians on Battalion staff.
The condition of enrolment was 12 months or the duration of the war; and payment was by Imperial. Government Commonwealth Treasurer's authority, No. 7, 1901-2. Many of the N.C.O.'s and men had served in previous Contingents.


Operations.

This battalion proceeded on 19th March, 1902, by train from Durban to Newcastle, and thence to Klerksdorp on 10th April, arriving at the latter place on the 13th. Joined Column under the command of Colonel De Lisle, which formed part of Thorneycroft's brigade.

This Column was inspected by Lord Kitchener on 22nd April, who expressed himself as pleased with the appearance of men and horses.

The Column was employed clearing the district north of Klerksdorp, and took part in a drive which commenced on 7th May, moving westward to the Kimberley - Mafeking railway blockhouse line. In this, 251 prisoners, including General De la Rey's brother, were captured, also 300 horses, 144 rides and bandoliers, 6,000 rounds ammunition, and a large quantity of stock.

Colonel De Lisle, who was leaving for England, handed over his command to Colonel Williams. The Column then returned to Klerksdorp, reaching that place on the 21st May, where the regiment remained until the declaration of place, when they were ordered to Elandsfontein to prepare for return to Australia.

The regiment proceeded by rail to Newcastle on 29th June, and to Durban on 9th July, for embarkation.


Departure and Return

The half-company left on the 16th February, 1902, comprising - 3 officers and 39 others, with 63 horses. Two died; 3 officers, 57 others returned.
There were not any promotions of officers. For promotions of N.C.O.'s and men vide nominal roll.


Service

"E" Company, 1st Battalion, Australian Commonwealth Horse, embarked at Hobart on transport Manchester Merchant, 16th February, 1902, and arrived at Durban on 14th March.

From 15th April to 28th June, served with the Australian Brigade, under the command, first of Colonel De Lisle, and latterly of Colonel Williams ; the Brigade forming during the same time part of Colonel Thorneycroft's Force. Participated in operations in the Transvaal, and the great final " drive," vide 1st Australian Commonwealth Horse, New South Wales.

Embarked on transport Drayton Grange at Durban, 11th July, and arrived in Tasmania, 9th August, having visited en route, Albany and Melbourne. Disbanded, 19th August, 1902.


War Services And Honours.

One officer had passed through previous service in the First Tasmanian Imperial Bushmen, which see; the others were awarded Queen's Medal with clasp.

Further Reading:
1st Battalion Australian Commonwealth Horse Tasmania
1st Battalion Australian Commonwealth Horse Tasmania, Roll of Honour
Battles where Australians fought, 1899-1920
---
Citation:
1st Battalion Australian Commonwealth Horse Tasmania, Outline
Posted by Project Leader at 12:01 AM EAST
Updated: Friday, 7 May 2010 11:01 PM EADT