"Fall in", 93rd Derwent Infantry Regiment
Topic: Gen - St - Tas
While looking through the Tasmanian Mail, in the illustration section of the newspaper, I found this shot of a Bugler Sergeant with full panoply about to blow "Fall in" to all Taswegian men.
Here is the pic from the
Tasmanian Mail
, 20 August 1914, p 17: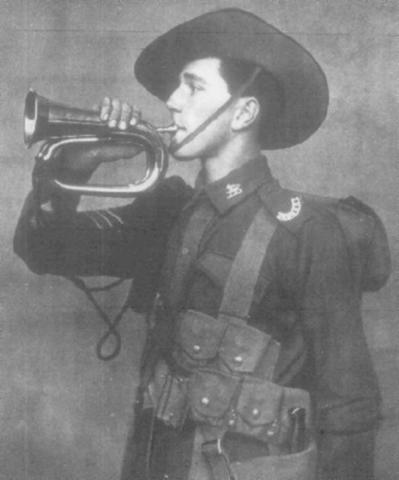 Apart from a stirring pic, the two things that caught my eye. The first was the badge on the collar, a lion, which is the emblem of Tasmania. The shoulder title has the name "Derwent" which refers to the 93rd Derwent Infantry Regiment, Militia, one of three Tasmanian Militia Infantry Regiments.

93rd Derwent Infantry Regiment's Headquarters was located in Hobart with the companies located in these specific areas:

"A" and "B" Companies - Hobart
"C" Company - Geeveston and Franklin
"D" Company - Glenochy
"E" Company - New Norfolk and Macquarie Plains
"F" Company - Lovett and Huonville

After the war the 93rd Derwent Infantry Regiment was renamed the 40th Derwent Infantry Regiment and later the 40th Battalion and 12/40 Battalion.
The other two Tasmanian regiments were:
91st Tasmanian Infantry Regiment
92nd Launceston Infantry Regiment
The 93rd Derwent Infantry Regiment was mobilised at the outbreak of war and went into camp at Pontville. Their task was to secure the Hobart area from potential German threats.
---
Citation:
"Fall in", 93rd Derwent Infantry Regiment
Posted by Project Leader at 10:24 PM EADT
Updated: Wednesday, 18 June 2008 2:14 PM EADT