Diaries of AIF Servicemen, Bert Schramm, 31 October 1918
Topic: Diary - Schramm
Diaries of AIF Servicemen
Bert Schramm
31 October 1918

Bert Schramm
2823 Private Herbert Leslie SCHRAMM, a 22 year old Farmer from Whites River, South Australia. He enlisted on 17 February 1916; and at the conclusion of the war Returned to Australia, 10 July 1919.
During part of the course of his military service with the AIF, Bert Schramm kept a diary of his life. Bert was not a man of letters so this diary was produced with great effort on his behalf. Bert made a promise to his sweetheart, Lucy Solley, that he would do so after he received the blank pocket notebook wherein these entries are found. As a Brigade Scout since September 1918, he took a lead part in the September Offensive by the Allied forces in Palestine. Bert's diary entries are placed alongside those of the 9th Light Horse Regiment to which he belonged and to the 3rd Light Horse Brigade to which the 9th LHR was attached. On this basis we can follow Bert in the context of his formation.
The Diaries
The complete diary is now available on the Australian Light Horse Studies Centre Site at:
Finding more about a service person. See:
Navigating the National Archives Service File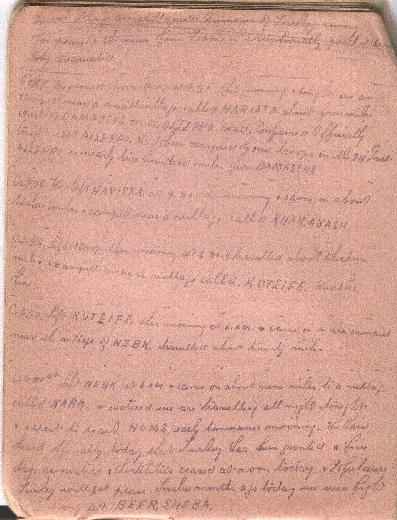 Bert Schramm's Handwritten Diary, 27 - 31 October 1918
[Click on page for a larger print version.]
Bert Schramm
Thursday, October 31, 1918

Bert Schramm's Location - Masie, Syria

Bert Schramm's Diary - Left Nebk at 6 am and came on about nine miles to a village called Kara and watered. We are travelling all night tonight and expect to reach Homs early tomorrow morning, We have heard officially today that Turkey has been granted a five day armistice and hostilities ceased at noon today. I feel sure Turkey will get peace. Twelve months ago today we were fighting at Beersheba.

[See: The Battle of Beersheba.]
9th Light Horse Regiment War Diary
9th Light Horse Regiment Location - Masie, Syria

9th Light Horse Regiment War Diary - 0400 Reveilled and at 0545 moved off on final stage of trek.

Arrived Kara at 0830 where horses were watered and march resumed at 1015. Arrived at Masie 1550 where a halt was made to feed up.

Information was received that an Armistice had been completed with Turkey, hostilities ceasing at 1200 on 31 October 1918.

1700 Resumed march towards Homs for a distance of six miles then halted, off-saddled and fed.

2330 March was resumed.
9th LHR AIF War Diary, 31 October
Darley
Darley, TH, With the Ninth Light Horse in the Great War, Adelaide, Hassell Press, 1924.

No Entry

Previous: Bert Schramm's Diary, 30 October 1918
Next: Bert Schramm's Diary, 1 November 1918
Sources Used:
Bert Schramm's Diary


National Archives Service File.

Embarkation Roll, AWM8.

Australian War Memorial Roll of Honour

Nominal Roll, AWM133, Nominal Roll of Australian Imperial Force who left Australia for service abroad, 1914-1918 War.
War Diaries and Letters

All War Diaries and letters cited on this site should be read in conjunction with the Australian Light Horse Studies Centre, War Diaries and Letters, Site Transcription Policy which may be accessed at:
Australian Light Horse Studies Centre, War Diaries and Letters, Site Transcription Policy
Further Reading:
9th Australian Light Horse Regiment, AIF
9th Australian Light Horse Regiment, War Diary, Day by Day Account
Battles where Australians fought, 1899-1920
---
Citation: Diaries of AIF Servicemen, Bert Schramm, 31 October 1918
Posted by Project Leader at 1:01 AM EADT
Updated: Friday, 10 June 2011 9:06 AM EADT