The Battle of Amwas, Palestine, 18 November 1917, 9th LHR War Diary
Topic: AIF - 3B - 9 LHR
The Battle of Amwas
Palestine, 18 November 1917
9th LHR War Diary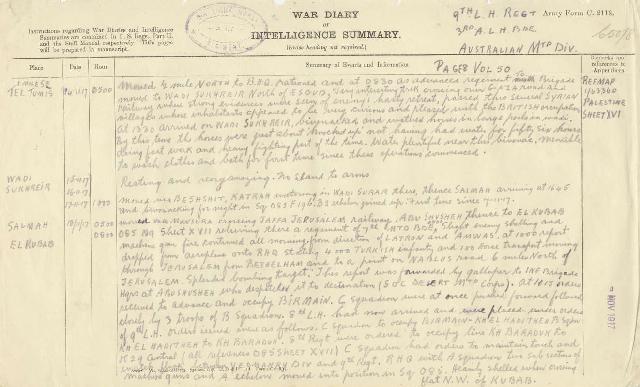 9th Light Horse Regiment War Diary, 18 November 1918.
18 November 1917
0500 Moved via Mansura crossing Jaffa Jerusalem railway Abu Shusheh thence to El Kubab.
0800 O85 K9 Sheet XVII relieving there a regiment of 7th MTD Bde. Slight enemy shelling and machine gun fire continued all morning from direction of Latron and Amwas.
At 1000 report dropped from aeroplane onto RHQ stating 4,000 Turkish infantry and 100 horse transport moving through Jerusalem from Bethlehem and to a point on Nablus Road 6 miles north of Jerusalem. Splendid bombing target. This report was forwarded by galloper to INF Brigade Hqrs at Abu Shusheh who dispatched it to destination (GOC Desert Mounted Corps.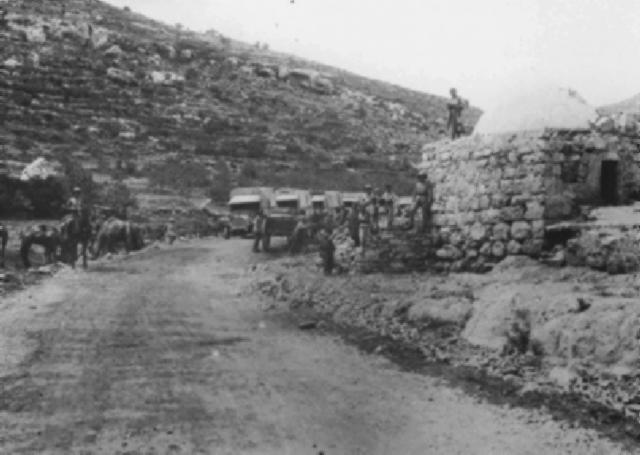 The road at Enab illustrating the mountainous situation facing the 9th LHR.
At 1115 orders received to advance and occupy Birman. C Squadron were at once pushed forward followed closely by 3 troops of B Squadron. 8th LH had now arrived and were placed under orders of 9th LH. Orders issued were as follows: C Squadron to occupy Birman to Kh el Haditheh, B Squadron Kh el Haditheh to Kh Baraduk. 8th Regt were ordered to occupy line Kh Baraduk to K29 central (All references O85 sheet XVII) C Squadron had orders to maintain touch and watch flank between Yeomanry Div and 9th Regt. RHQ with A Squadron two sub sections of machine guns and A echelon moved into position in Sq O85. Heavily shelled when crossing flat NW of Kubab. 9th Regt sector of the line was occupied by 1330.
At 1215 orders were sent out. 8th LH Regt will push on to Kh el Kusr. 9th Regt less one Squadron on Deir Eyub, owing to extreme toughness of country and having enemy opposition progress was very slow.
At 1600 orders were issued for A Squadron 9th LH to reconnoitre Yalo, B Squadron supported 8th LH Regt to move on Deir Eyub. C Squadron to maintain touch between Yeomanry Div and 9th LH and to continue moving forward on Beit Sirra. Sgt Masson with patrol from A Squadron reconnoitred Yalo reporting village clear but high ground to the east strongly held by enemy.
At 1630 orders for withdrawal were sent out. The Regiment less C Squadron concentrated on Sq K126 and at 1800 withdrew to Sq E21 sheet XVI arriving there at 2300.
See: 9th LHR AIF War Diary, 18 November
Further Reading:
The Battle of Amwas, Palestine, 18 November 1917
Battles where Australians fought, 1899-1920
---
Citation:
The Battle of Amwas, Palestine, 18 November 1917, 9th LHR War Diary
Posted by Project Leader at 12:01 AM EAST
Updated: Sunday, 3 October 2010 7:53 PM EADT