King Edward's Horse, Compulsory Training a New Arrangement, The Adelaide Advertiser, Friday 14 March 1913, p. 10
Topic: Militia - K.E.Horse
King Edward's Horse
Compulsory Training a New Arrangement

The Adelaide Advertiser, Friday 14 March 1913, p. 10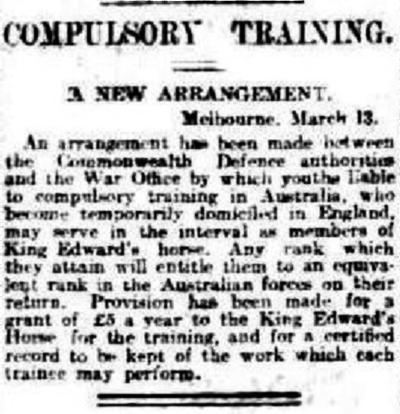 The Adelaide Advertiser, Friday 14 March 1913, p. 10

The transcription:
COMPULSORY TRAINING.

A NEW ARRANGEMENT.

Melbourne, March 13.

An arrangement has been made between, the Commonwealth Defence authorities and the War Office by which youths liable to compulsory training in Australia, who become temporarily domiciled in England, may serve in the interval as members of King Edward's horse. Any rank which they attain will entitle them to an equivalent rank in the Australian forces on their return. Provision has been made for a grant of £5 a year to the King Edward's Horse for the training, and for a certified record to be kept of the work which each trainee may perform.

Further Reading:
Australian Light Horse Militia
---
Citation: King Edward's Horse, Compulsory Training a New Arrangement, The Adelaide Advertiser, Friday 14 March 1913, p. 10
Posted by Project Leader at 12:01 AM EADT
Updated: Thursday, 17 December 2009 12:06 AM EAST