Australian Mounted Division, Aus MD, Contents
Topic: AIF - DMC - Aus MD
Aus MD
Australian Mounted Division
Contents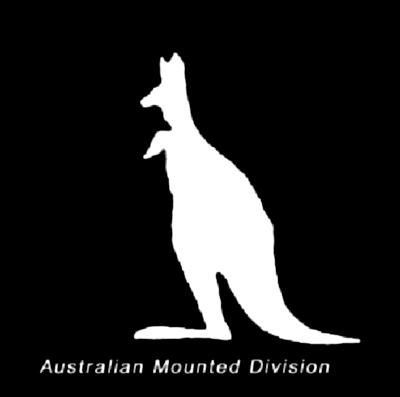 Outline
This thread gives details as to the formation and operation of the Australian Mounted Division, initially called the Imperial Mounted Division but changed in June and retained that name till the end of the war. Firstly it was shortened to the IMD but later known as the Aus MD when the confusion of capitalisation occurred with two AMD's - the Anazac Mounted Division and Australian Mounted Division. It was formed in February 1917 due to an excess of Brigades in the Anazac Mounted Division. Chauvel was given the option to remove a Brigade and he chose to retain the New Zealand brigade. The 3rd Light Horse Brigade became the senior brigade in the new division.
To view an outline of its history regarding this formation, its emergence and composition, this is detailed in the section on the Australian Light Horse Order of Battle. The full Order of Battle can be viewed at the following link:
Historical Outline
Individual Units
The individual formations that comprised the Anzac MD were many. Put together at any one time and there was about 7,000 mounted men in the Division. Below is a guide to the individual units.
Division

Brigades

3rd Australian Light Horse Brigade

4th Australian Light Horse Brigade

Regiments
4th Australian Light Horse Regiment


8th Australian Light Horse Regiment15th Australian Light Horse Regiment
War Diary
The War Diary of this Corps isavailable on the Australian War Memorial Website at this address:
General Staff, Headquarters Imperial Mounted Division
Battles
1917

First Gaza, Palestine, March 26 to 27, 1917.

Second Gaza, Palestine, April 19, 1917.


El Auja, Palestine, May 23, 1917.


Beersheba, Palestine, October 31, 1917.

Khuweilfe, Palestine, November 1 to 8, 1917.

Tel es Sheria, Palestine, November 7, 1917.

Huj, Palestine, November 8, 1917.


1918

Es Salt, Palestine, April 30 to May 3, 1918.

Abu Tellul, Palestine, July 14, 1918.

Megiddo, Palestine, September 19 to 21, 1918.


Nablus, Palestine, September 20, 1918.

Semakh, Palestine, September 25, 1918.


1919

The Egyptian Rebellion, Egypt, 13 March to 10 April 1919
Routine Orders
One of the best sources of information available for understanding the immediate challenges facing a regiment is to be found in the Routine Orders. They are a wealth of detail. The Routine Orders provide an unvarnished history of the Regiment.
Roll of Honour
Australian Mounted Division, AMD, Australian and British Forces Roll of Honour

Lest We Forget
Further Reading:
Australian Mounted Division, AMD, AIF
Australian Mounted Division, AMD, Australian and British Forces Roll of Honour
Battles where Australians fought, 1899-1920
---
Citation:
Australian Mounted Division, Aus MD, Contents
Posted by Project Leader at 12:01 AM EAST
Updated: Thursday, 10 February 2011 3:45 PM EAST