5th/4th/15th Australian Light Horse, Contents
Topic: Militia - LHN - 5/4/15
5th/4th/15th ALH
5th/4th/15th Australian Light Horse
Contents
New South Wales Mounted Rifles [1888 - 1903]
5th (New South Wales Mounted Rifles) Australian Light Horse [1903 - 1906]
5th (Northern Rivers Lancers) Australian Light Horse [1907 - 1912]
4th (Northern Rivers Lancers) Australian Light Horse [1912 - 1918]
15th (Northern Rivers Lancers) Australian Light Horse [1918 - 1941]
15th (Northern Rivers Lancers) Australian Motor Regiment [1941 - 1944]
"A" Squadron (Northern Rivers Lancers) Amphibious Assault Regiment [1948 - 1949]
"A" Squadron 15th Northern Rivers Lancers Regiment [1949 - 1952]
15th Northern Rivers Lancers [1952 - 1956]
1/15th Royal New South Wales Lancers [1956 - ]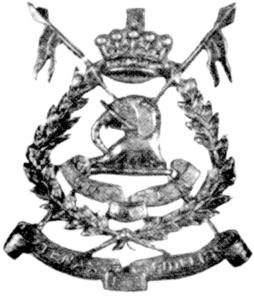 Tenax et Fidelis - Steadfast and True
[The elephant's head used on the badges is taken from the family crest of Lord Carrington, Governor of New South Wales from 1885 - 1890.]
March: El Abanico
Allied with: King Edward's Horse (The King's Overseas Dominions Regiment).
History:
Below is a brief historical outline from RK Peacock, Evolution of Australian Light Horse Regiments 1841-1935, Unpublished MSS, c.1936, p. 6.
This regiment owes its origin to the formation in 1888 of a Corps of Permanent Mounted Infantry in NSW. In the following year the Upper Clarence River Light Horse and this unit, together with the Bega Battery of Artillery, the Reserve Companies of Infantry at Queanbeyan, Picton, Campbelltown and Inverell, were styled the New South Wales Cavalry Regiment, this continued until 1850 when the permanent corps was disbanded.

By 1893 the NSW Cavalry Regiment had become the New South Wales Mounted Rifles and held this title until the year 1903. At the Federal reorganisation in this year No. 1 Squadron from Molong, No. 2 Squadron from Picton and Camden, and No. 3 Squadron from Forbes, together with "C" Squadron of the 1st Australian Horse from Mudgee and Rylston, and "G" Company and "J" Company of the 3rd N.S.W. Infantry from Wellington and Forbes respectively were amalgamated and became the 2nd Australian Light Horse Regiment (New South Wales Mounted Rifles). In addition there was the Canterbury 1/2 Squadron, raised in 1900, which became No. 6 Squadron attached to the 2nd A.L.H. Regitment.

In the same re-organisation No. 4 Squadron from Tenterfield and Glenn Innes became part of the 5th A.L.H. Regiment (15th L.H.).

In the re-organisation of 1912 the regiment was transferred to the Queensland command as the 4th Light Horse (New South Wales Northern Rivers Lancers).
Items
History

Regimental Structure 1889 -1920

This section explores the evolution of the Regiment from its first origins as a Commonwealth formation. Each year maps the movement of men and often locations of the various Squadrons and Troops. To get the flavour of the Regiment, it is best to begin the journey at 1889 and follow though each year till 1920.

New South Wales Mounted Rifles

5th (New South Wales Mounted Rifles) Australian Light Horse

5th (New South Wales Mounted Rifles) Australian Light Horse, December 1903


5th (New South Wales Mounted Rifles) Australian Light Horse, 1904

5th (New South Wales Mounted Rifles) Australian Light Horse, 1905

5th (New South Wales Mounted Rifles) Australian Light Horse, 1906

5th (Northern River Lancers) Australian Light Horse


5th (Northern River Lancers) Australian Light Horse, 1907

5th (Northern River Lancers) Australian Light Horse, 1908

5th (Northern River Lancers) Australian Light Horse, 1909

5th (Northern River Lancers) Australian Light Horse, 1910

5th (Northern River Lancers) Australian Light Horse, 1911

5th (Northern River Lancers) Australian Light Horse, June 1912

4th (Northern River Lancers) Australian Light Horse


4th (Northern River Lancers) Australian Light Horse, December 1912


15th (Northern River Lancers) Australian Light Horse

15th (Northern River Lancers) Australian Light Horse, 1919


2nd Australian Light Horse

The split between the two regiments of New South Wales Mounted Rifles became final with the designation of the territorial name Northern River Lancers in 1907 to the 5th Australian Horse along with a new badge. Until then, along with its sister formation, the two regiments were known as the New South Wales Mounted Rifles. The sister unit history is below.

New South Wales Mounted Rifles, December 1903

New South Wales Mounted Rifles, 1904

New South Wales Mounted Rifles, 1905

New South Wales Mounted Rifles, 1906
Roll of Honour
5th/4th/15th Australian Light Horse, Roll of Honour
Lest we forget
Further Reading:
New South Wales Mounted Rifles
5th/4th/15th Australian Light Horse
Militia Light Horse, New South Wales
Australian Militia Light Horse
---
Citation:
5th/4th/15th Australian Light Horse, Contents
Posted by Project Leader at 12:01 AM EAST
Updated: Sunday, 4 July 2010 7:59 PM EADT