19th/17th Australian Light Horse, Contents
Topic: Militia - LHV - 19/17
19th/17th ALH
19th/17th Australian Light Horse
Contents
Royal Volunteer Cavalry Regiment [1862 - 1863]
Prince of Wales Regiment of Light Horse (Hussars) [1863-1874]
Sandhurst Cavalry Troop [1884 - 1891]
Victorian Mounted Rifles [1885 - 1903]
9th Australian (Victorian Mounted Rifles) Light Horse [1903 - 1910]
19th Australian (Victorian Mounted Rifles) Light Horse [1911 - 1912]
17th Australian (Campaspie Valley) Light Horse [1912 - 1927]
17th Australian (Bendigo) Light Horse [1927 - 1931]
17th/19th Australian (Prince of Wales) Light Horse Regiment [1931 - 1933]
17th Australian (Prince of Wales) Light Horse [1933 - 1934]
17th/19th Light Horse Regiment [1934 - 1936]
17th Australian (Prince of Wales Light Horse) Machine Gun Regiment [1936 - 1941]
17th (Prince of Wales Light Horse) Motor Regiment [1941 - 1941]
17th Australian Motor Regiment [1941 - 1942]
4/19th (Prince of Wales Light Horse) Armoured Regiment [1948 - 1960]
"A" Squadron, 4/19th Prince of Wales Light Horse ARA [1960 - 1965]
4/19th Prince of Wales Light Horse [1965 - ]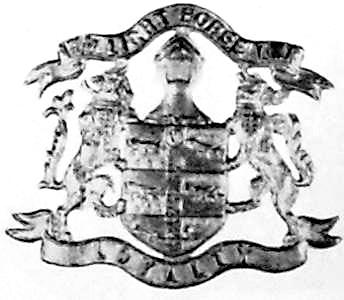 Tenax in fide - Steadfast in Trust
Allied with: King Edward's Horse (The King's Overseas Dominions Regiment).
History:
Extracted from RK Peacock, Evolution of Australian Light Horse Regiments 1841-1935, p. 17.
17th Light Horse Regiment (Prince of Wales Light Horse)

The 17th Light Horse may be traced from the Kyneton Castlemaine and Sandhurst (Bendigo) troops of the Royal Volunteer Cavalry Regiment raised in 1862. Through the years 1863 to 1874 these troops formed part of the Prince of Wales Regiment of Light Horse (Hussars). These troops were later disbanded and in 1884 a troop was raised at Sandhurst styled the Sandhurst Cavalry Troop which lingered on for a few years till 1891.

In the Federal re-organisation of 1903 no mounted unit existed at Bendigo, Castlemaine and Kyneton. It was not until the year 1911 (3 January 1911) that a unit styled the 19th Light Horse Regiment was formed with headquarters at Bendigo and squadrons at Bendigo, Elmore, Rochester, Echuca, Kerang, Pyramid Hill, Mintaro, Castlemaine and Kyneton.

At the re-organisation of 1912 the 19th became the 17th Light Horse, in the following year (1913) the 17th (Campaspe Valley) Light Horse. It continued under this title until 1927 when it was styled the 17th (Bendigo) Light Horse, and in 1931 the 17th (Prince of Wales's) Light Horse.
Items
Regimental Structure 1903 -1920

This section explores the evolution of the Regiment from its first origins as a Commonwealth formation. Each year maps the movement of men and often locations of the various Squadrons and Troops. To get the flavour of the Regiment, it is best to begin the journey at 1903 and follow though each year till the end.



9th Australian (Victorian Mounted Rifles) Light Horse

19th Australian (Victorian Mounted Rifles) Light Horse


19th Australian (Victorian Mounted Rifles) Light Horse, 1911

19th Australian (Victorian Mounted Rifles) Light Horse, June 1912




17th Australian (Campaspie Valley) Light Horse

17th Australian (Victorian Mounted Rifles) Light Horse, December 1912

17th Australian (Campaspie Valley) Light Horse, 1913

17th Australian (Campaspie Valley) Light Horse, 1914

17th Australian (Campaspie Valley) Light Horse, 1915

17th Australian (Campaspie Valley) Light Horse, 1916

17th Australian (Campaspie Valley) Light Horse, 1917

17th Australian (Campaspie Valley) Light Horse, 1918

17th Australian (Campaspie Valley) Light Horse, 1919

17th Australian (Campaspie Valley) Light Horse, 1920

Movies

17th Australian (Prince of Wales Light Horse) Machine Gun Regiment, Training Camp Film
Roll of Honour
19th/17th Australian Light Horse, Roll of Honour

Lest We Forget
Further Reading:
19th/17th Australian Light Horse
19th/17th Australian Light Horse, Roll of Honour
Victoria Militia - Light Horse
Australian Militia Light Horse
---
Citation:
19th/17th Australian Light Horse, Contents
Posted by Project Leader at 12:01 AM EAST
Updated: Tuesday, 3 May 2011 4:45 PM EADT