The
New South Wales Citizens Bushmans Contingent
Album contains the photographs of nearly all the men who were listed as having embarked for service to South Africa with this unit. Other men are listed who did not embark but had their photographs included in the publication.
The New South Wales Citizens Bushmans Contingent embarked from Sydney, New South Wales on 28 February 1900 and returned on 11 June 1901.
These photographs were extracted from the Sydney Mail, 3 March 1900, pp. 506 - 516.
For further information about this contingent, go to:
New South Wales Citizens Bushmans Contingent
Or the:
Australian Light Horse Studies Centre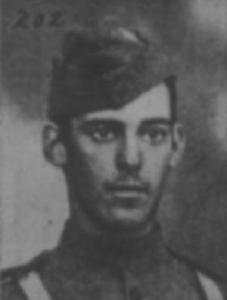 484 Private Frederick Talbot WOODS
This soldier is noted as not having boarded under CBC, however what ever the circumstances it appears that Murray simply missed him. His 1ACH attestation papers show his CBC service Was wounded with NSW Citizens Bushmen at Elands River 5/6 August 1900. Although 'B' Sqn it is not clear if this was part of the Relief or he was actually inside the defensive perimeter (press reports at the time). In WW1 he served with the South African Armed forces in Mechanical Transport during the South African Campaign.
Information by courtesy of David Deasey.