The following pages are from the Orders designed to bring the Citizens Military Force (CMF) or Militia into line with the names given to the units of the Australian Imperial Force (AIF) in August 1918. Following from this, designations of the various territories applied to the Training Areas were altered. In the granting of Battle Honours in 1927, CMF units were granted honours that were awarded to the AIF unit after whom they were renamed in 1918.
These three reforms were significant in understanding the nomenclature of the time.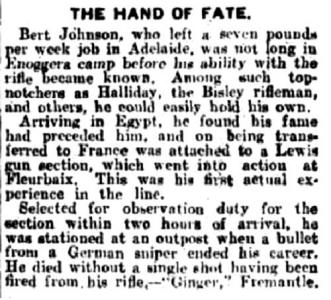 THE HAND OF FATE.
Western Mail, Thursday 19 January 1933, page 2
THE HAND OF FATE.
Bert Johnson, who left a seven pounds per week job in Adelaide, was not long in Enoggera-camp before his ability with the rifle became known. Among such topnotcher as Halliday, the Bisley rifleman, and others he could easily hold his own.
Arriving in Egypt, he found his fame had preceded him, and on being transferred to France was attached to a Lewis gun section, which went into action at Fleurbaix. This was his first actual experience in the line.
Selected for observation duty for the section within two hours of arrival, he was stationed at an outpost when a bullet from a German sniper ended: his career.
He died without a single shot baying been fired from his rifle.
"Ginger," Fremantle.