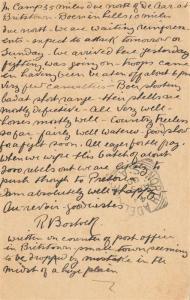 75 Trooper Robert Vernon BOSTOCK letter reverse
In Camp 35 miles due north of De Aar at Britishtown. Boers in hills 10 miles due north. We are waiting reinforcements - expect to attack tomorrow or Sunday - We arrived here yesterday fighting was going on - troops came in having been beaten off about 6pm. Very few casualties - Boer shooting bad at short range - their shells are mostly defective - all very well - horses mostly well - country treeless so far - fairly well watered - good show for a fight soon. All eager for the fray. When we wipe this batch of about 2000 rebels out we are likely to push through to Pretoria. I am absolutely well + happy - Au - revoir - good wishes.
R Bostock
Written on counter of Post Office in Britishtown - small town seeming to be dropped by mistake in the midst of a huge plain.
75 Trooper Robert Vernon BOSTOCK