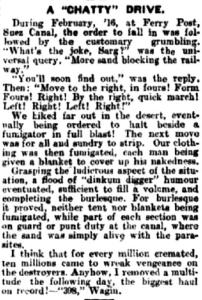 A "CHATTY" DRIVE.
Western Mail, Thursday 9 November 1933, page 2
A "CHATTY" DRIVE.
During February, '16, at Ferry Post, Suez Canal, the order to fall in was followed by the customary grumbling.
"What's the joke, Sarg?" was the universal query. "More sand blocking the railway."
"You'll soon find out," was the reply.
Then: "Move to the right, in fours! Form Fours! Right! By the right, quick march! Left! Right! Left! Right!" We hiked far out in the desert, eventually being ordered to halt beside a fumigator in full blast! The next move was for all and sundry to strip. Our clothing was then fumigated, each man being given a blanket to cover up his nakedness.
Grasping the ludicrous aspect of the situation, a flood of "dinkum digger" humour eventuated, sufficient to fill a volume, and completing the burlesque. For burlesque it proved, neither tent nor blankets being fumigated, while part of each section was on guard or punt duty at the canal, where the sand was simply alive with the parasites.
I think that for every million cremated, ten millions came to wreak vengeance on the destroyers. Anyhow, I removed a multitude the following day, the biggest haul on record!
"398," Wagin
Those in the story:
Narrator 398 = 398 Private Euliseus St. Ives BILSTON, a 43 year old Farmer from Doodlakine, Western Australia enlisted in the AIF on 7 January 1915 and was allotted to the 28th Battalion, C Company and embarked at Fremantle, Western Australia, on HMAT A11, 'Ascanius', on 29 June 1915. During the Great War he Returned to Australia, 24 June 1916.