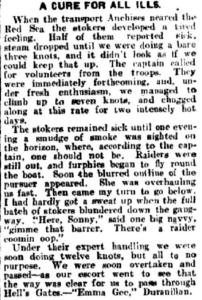 A CURE FOB ALL ILLS.
Western Mail, Thursday 13 April 1933, page 2
A CURE FOB ALL ILLS. .
When the transport Anchises neared the Red Sea the stokers developed a tired feeling. Half of them reported sick, steam dropped until we were doing a bare three knots, and it didn't look as if we could keep that up. The captain called for volunteers from the troops. They were immediately forthcoming, and, under fresh enthusiasm, we managed to climb up to seven knots, and chugged along at this rate for two intensely hot days.
The stokers remained sick until one evening a smudge of smoke was sighted on the horizon, where, according to the captain, one should not be. Raiders were still out, and furphies began to fly round the boat. Soon the blurred outline of the pursuer appeared. She was overhauling us fast. Then came my turn to go below. I had hardly got a sweat up when the full batch of stokers blundered down the gangway. "Here, Sonny," said one big navvy, "gimme that barrer. There's a raider coomin oop."
Under their expert handling we were soon doing twelve knots, but all to no purpose. We were soon overtaken and passed - as our escort went to see that the way was clear for us to pass through Hell's Gates.
"Emma Gee," Duranillan.