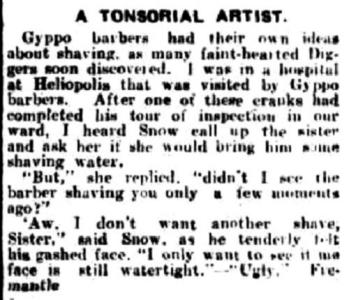 A TONSORIAL ARTIST.
Western Mail, Thursday 6 July 1933, page 2
A TONSORIAL ARTIST.
Gyppo barbers had their own ideas about shaving, as many faint-hearted Diggers soon discovered. I was in a hospital at Heliopolis that was visited by Gyppo barbers. After one ofr these cranks had completed his tour of inspection in our ward) I heard Snow call up the sister and ask her if she would bring him some shaving water.
"But," she replied, "didn't I see the barber shaving you only a few moments ago?"
"Aw, I don't want another shave, Sister," said Snow, as he tenderly felt his gashed face. "I only want to see if meface is still watertight."
"Ugly" Fremantle
Those in the story:
Narrator Ugly = Unidentified