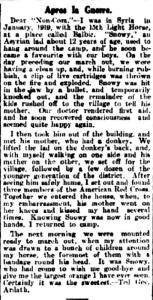 Apres la Guerre
Western Mail, Thursday 14 December 1933, page 2
Apres la Guerre.
Dear "Non-Com." - I was in Syria in January, 1919, with the 15th Light Horse, at a place called Balbic. "Snowy," an Asyrian lad about 12 years of age, used to hang around the camp, and he soon became a favourite with our boys. On the day preceding our march out, we were having a clean up, and, while burning rubbish, a clip of live cartridges was thrown on the fire and exploded. Snowy was hit in the jaw by a bullet, and temporarily knocked out, and the remainder of the kids rushed off to the village to tell hiť mother. Our doctor rendered first aid, and he soon recovered consciousness and seemed quite happy again.
I then took him out of the building, and met his mother, who had a donkey. We lifted the lad on the donkey's back, and with myself walking on one side and his mother on the other, we set off for the village, followed by a few dozen of the younger generation of the district. After seeing him safely home, I set out and found three members of the American Red Cross. Together we entered the house, when, to my embarrassment, his mother went on her knees and kissed my hand several times. Knowing Snowy was now in good hands, I returned to camp.
The next morning we were mounted ready to march out, when my attention was drawn to a bunch of children around my horse, the foremost of them with a bandage round his head. It was Snowy, who had come to wish me good-bye and give me the largest orange I have ever seen. Certainly it was the sweetest.
Ted Gee, Ardath.
From the ADFA Site
http://www.aif.adfa.edu.au:8080/showPerson?pid=108895
Edward GEE
Regimental number 531 Religion Church of England Occupation Teamster Marital status Single Age at embarkation 30 Next of kin Father, E J Gee, Trawle Common, Trowbridge, Wiltshire, England Enlistment date 25 September 1914 Date of enlistment from Nominal Roll 10 December 1914 Rank on enlistment Private Unit name 10th Light Horse Regiment, A Squadron AWM Embarkation Roll number 10/15/1 Embarkation details Unit embarked from Fremantle, Western Australia, on board HMAT A47 Mashobra on 8 February 1915 Rank from Nominal Roll Corporal Unit from Nominal Roll 15th Light Horse Regiment Fate Returned to Australia 24 July 1919