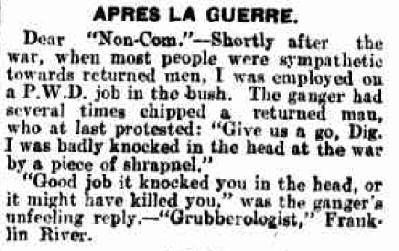 APRES LA GUERRE
Western Mail, Thursday 28 December 1933, page 2
APRES LA GUERRE.
Dear "Non-Com." - Shortly after the war, when most people were sympathetic towards returned men, I was employed on a P.W.D. job in the bush. The ganger had several times chipped a returned man, who at last protested: "Give us a go, Dig. I was badly knocked in the head at the war by a piece of shrapnel."
"Good job it knocked you in the head, or it might have killed you," was the ganger's unfeeling reply.
"Grubberologist," Franklin River.