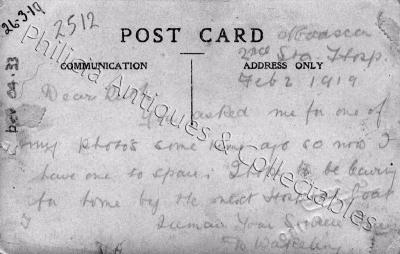 David WAKELING, Post Card
Moascar
2nd Stationary Hospital
February 2, 1918
Dear Ruth
You asked me for one of my photo's some time ago so now I have one to spare. I hope to be leaving for home by the next Hospital boat.
I remain Your Sincere Friend,
D. Wakeling
3456 Private David WAKELING, an 18 year old Labourer from Saltwater River, Nubeena, Tasmania. He enlisted in the AIF on 1 March 1917 and was allotted to the 8th Light Horse Regiment, 29th Reinforcement which embarked from Melbourne, Victoria on board HMAT A55 Kyarra 7 September 1917. At the end of the Great War WAKELING Returned to Australia, 14 March 1919.