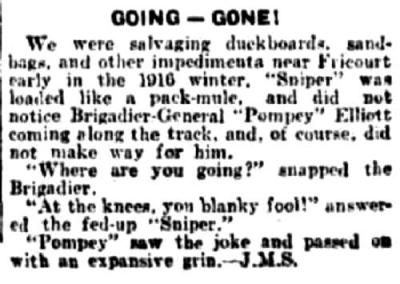 GOING - GONE!
Western Mail, Thursday 16 March 1933, page 2
GOING - GONE!
We were salvaging duckboards, sandbags, and other impedimenta near Fricourt early in the 1916 winter, "Sniper" was loaded like a pack-mule, and did not notice Brigadier-General "Pompey" Elliott coming along the track, and, of course, did not make way for him.
"Where are you going?" snapped the Brigadier.
"At the knees, you blanky fool!" answered the fed-up "Sniper."
"Pompey" saw the joke and passed on with an expansive grin.
JMS.