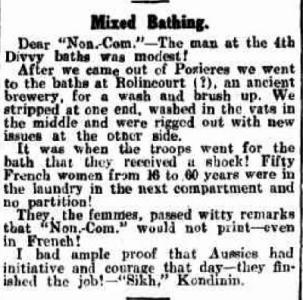 Mixed Bathing
Western Mail, Thursday 21 December 1933, page 2
Mixed Bathing.
Dear "Non.-Com." - The man at the 4th Divvy baths was modest!
After we came out of Pozieres we went to the baths at Rolincourt (?), an ancient brewery, for a wash and brush up. We stripped at one end, washed in the vats in the middle and were rigged out with new issues at the other side.
It was when the troops went for the bath that they received a shock! Fifty French women from 16 to 60 years were in the laundry in the next compartment and no partition!
They, the femmes, passed witty remarks that "Non.-Com." would not print-even in French!
I had ample proof that Aussies had initiative and courage that day - they finished the job.
"Sikh, Kondinin.