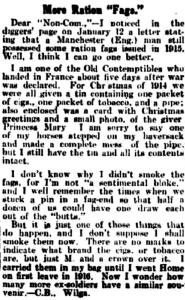 More Ration "Fags."
Western Mail, Thursday 9 February 1933, page 2
More Ration "Fags."
Dear "Non-Com." - I noticed in the diggers' page on January 12 a letter stating that a Manchester (Eng.) man still possessed some ration fags issued in 1915. Well, I think I can go one better.
I am one of the Old Contemptibles who landed in France about five days after war was declared. For Christmas of 1914 we were all given a tin containing one packet of cigs., one packet of tobacco, and a pipe; also enclosed was a card with Christmas greetings and a small photo, of the giver Princess Mary. I am sorry to say one of my horses stepped on my haversack and made a complete mess of the pipe, but I still have the tin and all its contents intact.
I don't know why I didn't smoke the fags, for I'm not "a sentimental bloke," and I well remember the times when we stuck a pin in a fag-end so that half a dozen of us could have one draw each out of the "butts."
But it is just one of those things that do happen, and I don't suppose I shall smoke them now. There are no marks to indicate what brand the cigs. or tobacco are, but just M. and a crown over it. I carried them in my bag until I went Home on first leave in 1916. Now I wonder how many more ex-soldiers have a similar souvenir.
C.B., Wilga.
Those in the story:
Old Contemptibles = The name self-adopted by British troops belonging to the regular army in 1914, the term was supposedly derived from a comment made by the German Kaiser, Wilhelm II, who upon hearing that German forces were being held up in France while en route to the French capital, is said to have exclaimed his exasperation of "Sir John French's contemptible little army".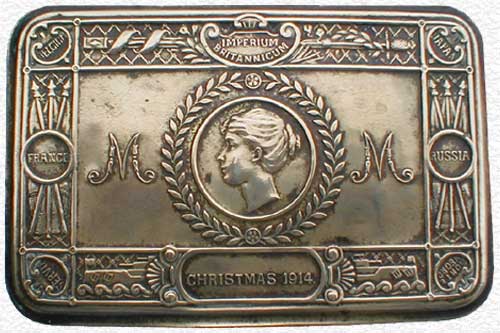 The Princess Mary 1914 Christmas Gift Box
Christmas of 1914 = The Princess Mary 1914 Christmas Gift contents varied considerably; officers and men on active service afloat or at the front received a box containing a combination of pipe, lighter, 1 oz of tobacco and twenty cigarettes in distinctive yellow monogrammed wrappers.
HRH Princess Mary
HRH Princess Mary = The Princess Mary, Princess Royal and Countess of Harewood (Victoria Alexandra Alice Mary; 25 April 1897 – 28 March 1965) was a member of the British Royal Family; she was the third child and only daughter of King George V and Queen Mary.