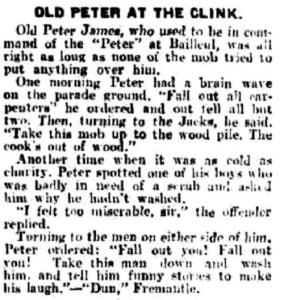 OLD PETER AT THE CLINK
Western Mail, Thursday 10 August 1933, page 2
OLD PETER AT THE CLINK
Old Peter James, who used to be in command of the "Peter" at Bailleul, was all right as .long as none of the mob tried to put anything over him.
One morning Peter had a brain wave on the parade ground. ''Fall out all carpenters" he ordered and out fell all but two. Then, turning to the Jacks, he said, "Take this mob up to the wood-pile. The cook's out of wood."
Another time when it was as cold as charity, Peter spotted one of his boys who was badly in need of a scrub and asked him why he hadn't washed.
"Í felt too miserable, sir," the offender replied.
Turning to the men on either side of him, Peter ordered: "Fall out you! Fall out you! Take this man down and wash him, and tell him funny stories to make his laugh."
"Dun," Fremantle