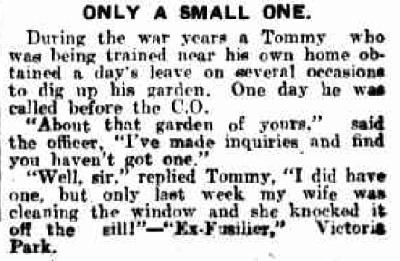 ONLY A SMALL ONE
Western Mail, Thursday 20 April 1933, page 2
ONLY A SMALL ONE.
During the war years a Tommy who was being trained near his own home obtained a day's leave on several occasions to dig up his garden. One day he was called before the CO.
"About that garden of yours." Said the officer, "I've made inquiries and find you haven't got one."
"Well, sir," replied Tommy, ''I did have one, but only last week, my wife was cleaning the window and she knocked it off the sill!"
''Ex-Fusilier," Victoria Park.