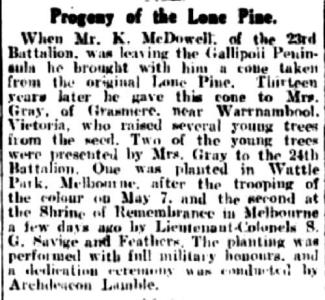 Progeny of the Lone Pine.
Western Mail, Thursday 13 July 1933, page 2
Progeny of the Lone Pine.
When Mr. K. McDowell: of the 23rd Battalion, was leaving the Gallipoli Peninsula he brought with him a cone taken from Hie original Lone Pine. Thirteen year later he gave this cone to Mrs. Gray of Grasmere, near Warrnambool, Victoria, who raised several young trees from the seed. Two of the young trees were presented by Mrs. Gray to the 24th Battalion. One was planted in Wattle Park, Melbourne, after the trooping of the colour on May 7, and the second at the Shrine of Remembrance in Melbourne a few days ago by Lieutenant-Colonels S. G. Savige and Feathers. The planting was performed with full military honours, and a dedication ceremony was conducted by Archdeacon Lamble.