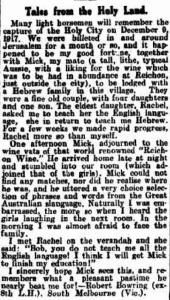 Tales from the Holy Land
Western Mail, Thursday 21 December 1933, page 2
Tales from the Holy Land.
Many light horsemen will remember the capture of the Holy City on December 9, 1917. We were billeted in and around Jerusalem for a month or so, and it happened to be my good fortune, together with Mick, my mate (a tall, lithe, typical Aussie, with a liking for the wine which was to be had in abundance at Reichon, just outside the city), to be lodged with a Hebrew family in this village. They were a line old couple, with four daughters and one Bon. The eldest daughter, Rachel asked me to teach her the English language, she in return to teach me Hebrew. For a few weeks we made rapid progress, Rachel more so than myself.
One afternoon Mick, adjourned to the wine vats of that world renowned "Reichon Wine." He arrived home late at night and stumbled into our room (which adjoined that of the girls). Mick could not find any matches, nor did he realise where he was, and he uttered a very choice selection of phrases and words from the Great Australian slanguage. Naturally I was embarrassed, the more so when I heard the girls laughing in the next room. In the morning I was almost afraid to face the family.
I met Rachel on the verandah and she said: "Bob, you do not teach me all the English language! I think I will get Mick to finish my education!"
I sincerely hope Mick sees this, and remembers what a pleasant pastime he nearly beat me for!
Robert Bowrmg (ex-8th L.R.), South Melbourne (Vic).