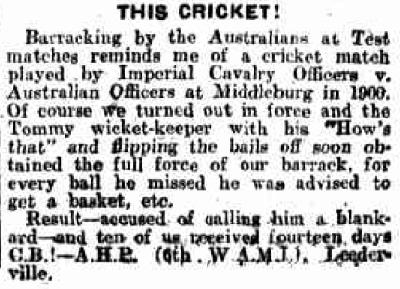 THIS CRICKET!
Western Mail, Thursday 23 February 1933, page 2
THIS CRICKET!
Barracking by the Australians at Test matches reminds me of a cricket match played by Imperial Cavalry .Officers v. Australian Officers at Middleburg in 1900.
Of course we turned out in force and the Tommy wicket-keeper with his "How's that" and flipping the bails off soon obtained the full force of our barrack, for every ball he missed he was advised to get a basket, etc.
Result - accused of calling him a blankard - and ten of us received fourteen days C.B.!
A.H.P., (6th W.A.M.I.), Leederville.