Edward John Culloton album was a collection that followed him through his service with the 10th Light Horse Regiment, AIF from 1914 to his return to Australia in August 1919.
For a comprehensive listing of photographs in the album, see:
Trooper Edward John Culloton Photograph Album, Contents
Should any further details be sought, see Australian Light Horse Studies Centre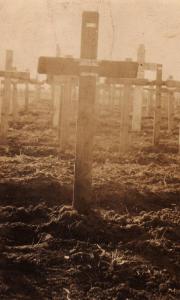 Kantara Graveyard
The first grave marker for Herbert Alexander Bell's grave after his death during the
Battle of Bir el Abd
.
The grave is now located at Kantara War Memorial Cemetery (Row B, Grave No. 75), Egypt.