Welcome to the
Gallipoli Album, May 1915
.
As casualties lists from the Gallipoli Campaign became known in Australia from early May 1915, it became a practice to publish a photograph of individuals. These photographs were supplied by the families of the person on the casualty list. There were few photographs published in relation to the number of casualties listed. To give the extent of the human tragedy that unfolded, the photographs were extracted from the various newspapers and placed in this album. Each photograph is clearly identified to an individual and brief details are given as a short biography.
For a comprehensive listing of photographs in the album, see:
Gallipoli Album, May 1915, Contents
Finding service information.
Navigating the National Archives Service File
Should any further details be sought, see Australian Light Horse Studies Centre
Lest We Forget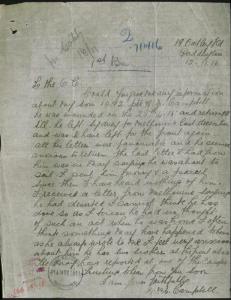 Albert Edward CAMPBELL - Mother's Letter, 12 November 1916
19 Oatley Road
Paddington
12 . 11 . 16
To the OC
Could you give me any information about my son 1092 Pte AE Campbell he was wounded on the 25th . 4 . 15 and returned ill. he left Sydney for Melbourne last december and was to have left for the front again. all his letters were favourable and he seemed anxious to return the last letter I had from him was in may saying he was about to sail. I sent him money + a parcel. Since then I have heard nothing of him. I received a letter from Melbourne saying he had deserted I cannot think he has done so as I know he had no thought of such an act when he was home I often think something may have happedned to him as he always wrote to me I feel very anxious about him he has two brother at the front also. He may have reported at one of the Camps.
Trusting to hear from you soon.
I am yours faithfully
Mrs C Campbell
1092 Private Albert Edward CAMPBELL, a 19 year old Bushman from 19 Oatley Road, Paddington, New South Wales. He enlisted on 23 September 1914 and was allotted to the 1st Battalion, F Company which embarked from Sydney, New South Wales, on board HMAT A19 Afric on 18 October 1914. CAMPBELL subsequently was Wounded in Action, 25 April 1915. During the Great War, CAMPBELL Died of Disease, 2 August 1917.