Welcome to the
Gallipoli Album, May 1915
.
As casualties lists from the Gallipoli Campaign became known in Australia from early May 1915, it became a practice to publish a photograph of individuals. These photographs were supplied by the families of the person on the casualty list. There were few photographs published in relation to the number of casualties listed. To give the extent of the human tragedy that unfolded, the photographs were extracted from the various newspapers and placed in this album. Each photograph is clearly identified to an individual and brief details are given as a short biography.
For a comprehensive listing of photographs in the album, see:
Gallipoli Album, May 1915, Contents
Finding service information.
Navigating the National Archives Service File
Should any further details be sought, see Australian Light Horse Studies Centre
Lest We Forget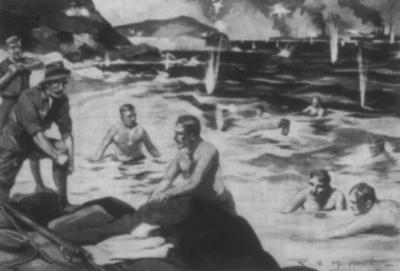 Bathing to the Accompaniment of Bursting Shells - RH Moppett Illustration
"These colonials" (writes Mr Ashmead Bartlett in his thrilling account of the work of the Australian and New Zealand troops at the Dardanelles) "are extraordinarily cool under fire, often exposing themselves rather than take the trouble to keep under shelter of the cliff. One of the strangest sights was to see men bathing in the sea with shrapnel bursting all round them." The London "Times" commenting on the Gallipoli campaign, says:- The essence of the enterprise is the resource and vigour of the Australians and New Zealanders, who were asked to carry out a task which would test the mettle of the most seasoned soldiers. They have already done well, and now are facing more deadly obstacles with a passion of enthusiasm.
Sydney Mail, 19 May 1915, p. 23.
For the Sydney Mail, 1 September 1915, p. 22. follow up to this picture, see:
BATHING TO THE ACCOMPANIMENT OF SHRAPNEL.
Richard Harold MOPPETT, born 1883 at Brighton, Sussex, England and died in 1967 at St Leonards, New South Wales, Australia. His art work was first recognised by the Sydney Technical College in 1897 as achieving Second Year Honours in Freehand Drawing. (Sydney Morning Herald, Saturday, 15 January 1898, p.7.) RH Moppett did not serve with the AIF during the Great War.
Brother:
6835 Private George Sydney MOPPETT, 13th Battalion, was Killed in Action, 11 April 1917 at Villers-Bretonneux, France.