Welcome to the
Gallipoli Album, May 1915
.
As casualties lists from the Gallipoli Campaign became known in Australia from early May 1915, it became a practice to publish a photograph of individuals. These photographs were supplied by the families of the person on the casualty list. There were few photographs published in relation to the number of casualties listed. To give the extent of the human tragedy that unfolded, the photographs were extracted from the various newspapers and placed in this album. Each photograph is clearly identified to an individual and brief details are given as a short biography.
For a comprehensive listing of photographs in the album, see:
Gallipoli Album, May 1915, Contents
Finding service information.
Navigating the National Archives Service File
Should any further details be sought, see Australian Light Horse Studies Centre
Lest We Forget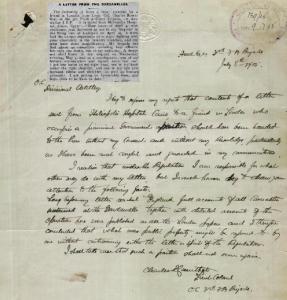 Charles ROSENTHAL - letter 8 July 1915
A letter by ROSENTHAL was published in "The British Austalasian", 27 May 1915 which brought censure for breach of regulations.
A letter from the Dardanelles
The following is from a letter received by a friend in London from Lieut Col Charles Rosenthal, of the 3rd Field Artillery Brigade, 1st Australian IEF. It is dated from Heliopolis Hospital, Cairo, Egypt:- "Your letter of April 9, with enclosure, was delivered to me in my "dug-out" in the firing line at Gallipoli on April 29. I have had the unique experience of 11 day's fighting with guns absolutely in the Infantry trenches, and my men have done magnificently. My brigade has had about 40 casualties, including four officer, but only one death, one of my captains. A shrapnel shell burst in my dug-out on Wednesday evening, May 5, and as a consequence, one of my battery commanders and myself were laid out. I got one bullet in my right knee, one in my back under the right shoulder, and one in my left arm between elbow and shoulder, as well as bruises generally. I am getting on favourably here, and hope soon to be back to duty."
Headquarters 3rd FA Brigade
July 8th 1915
OC
Divisional Artillery
I beg to express my regrets that contents of a letter sent from Heliopolis Hospital Cairo, to a friend in London who occupies a prominent Government position should have been handed to the Press without my consent, and without my knowledge, particularly as I have been most careful and guarded in my communications.
I realise that under the Regulations I am responsible for what others may do with my letter, but I would herein beg to draw your attention to the following facts.
Long before my letter reached England full accounts of all casualties sustained at the Dardanelles together with detailed accounts of the operation here were published in all the London papers, and I therefore concluded that what was public property might be referred to by me without contravening either the letter or spirit of the Regulations.
I shall take care that such a position shall not occur again.
Charles Rosenthal
Lieut Colonel
OC 3rd FA Brigade
Lieutenant-Colonel Charles ROSENTHAL, a 39 year old architect from 68 Pitt Street, Sydney, New South Wales. He enlisted with the AIF on 25 August 1914 and was allotted to the 3rd Field Artillery Brigade, Headquarters which embarked from Brisbane, Queensland, on board HMAT A22 Rangatira on 25 September 1914. ROSENTHAL subsequently was Wounded in Action, 5 May 1915, again Wounded in Action, 20 July 1915, again Wounded in Action, 20 December 1916, and then again Wounded in Action, 19 July 1918. After the Great War, ROSENTHAL Returned to Australia, 20 November 1919. ROSENTHAL was awarded the Knight Commander of the Order of the Bath - KCB, Companion of the Order of St Michael & St George - CMG, Distinguished Service Order - DSO, Croix de Guerre (France and Belgium), Legion d'Honneur (4th Class Officer, France), and Mentioned in Despatches seven times.
Sydney Mail, 26 May 1915, p. 26.