The photographs in this album form the Joseph McKinnon Photograph Album.
17647 Sapper Joseph McKINNON, a 21 year old Telegraphist from Yarragon, Victoria. He enlisted on 30 October 1916; and embarked from Sydney, New South Wales, on board HMAT A15 Port Sydney 9 May 1917. At the conclusion of the war Returned to Australia, 12 April 1919.
A complete listing of photographs may be found at:
Joseph McKinnon Photograph Album Contents
Acknowledgement: The photograph which made this album possible was kindly provided by Anthony Liston.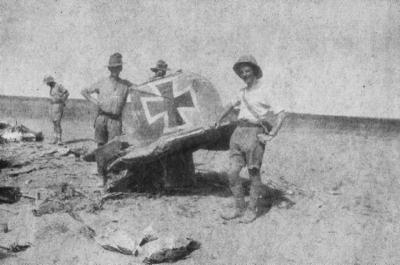 Downed German Aircraft Tail Section
The tail section of a downed German aircraft was elevated to enhance its display. In the photograph are two British infantrymen and two Australian Light Horsemen. The photo was taken after 15 October 1917 west of Deir el Belah at Sheikh Weli Nuran. The pilot was Oberleutnant Richard Ernert from the FA301 (Flieger Abteilung 301). Lieutenant Richard Ernert from German Lightning Squadron No. 301.
The diary of AM Joe Bull (1 AFC) - One Airman's War - provides the surrounding story:
Monday 15 October 'At 3.30 three Hun machines came over and were attacked by one of our BE2e's and a Bristol fighter. The fighter knocked an Albatros scout and the Hun held up his hands but when Lieutenant Steele, pilot of the fighter, directed him to our aerodrome, he attempted to glide for his own lines, so they opened fire on him and shot his wings off, and he crashed to earth. The machine and pilot were smashed beyond recognition.'