The handwritten manuscript called The 4th Brigade Trek from the Canal to Khan Yunis and the 2nd Gaza Battle was produced by 666 Sergeant David Woodward HARRIS of the 12th Light Horse Regiment.
David Woodward HARRIS was a 24 year old Overseer from Turramurra, New South Wales. He enlisted on 30 December 1914 and was allotted to the 12th Australian Light Horse Regiment, AIF, Machine Gun Section, which embarked from Sydney, New South Wales on board HMAT A29 Suevic 13 June 1915.; and at the conclusion of the war Returned to Australia, 20 July 1919.
For further information, see:
4th Australian Light Horse Brigade, AIF
and: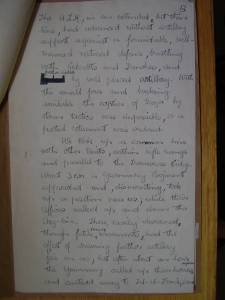 HARRIS, page 12
The ALH, in and extended but thin line, had advanced without artillery support against a formidable well manned natural defence, Brisling with redoubts and trenches, and further aided by well placed artillery. With the small force and backing available the capture of Gaza by storm tactics was impossible so a partial retirement was ordered.
We took up a common line with other units, within rifle range and parallel to the transverse ridge. About 3pm a Yeomanry Regiment approached and, dismounting, took up a position near us; while their officers walked up and down the sky line. These, easily discerned, through futile sky line movements had the effect of drawing further artillery fire on us, but after about an hour the Yeomanry called up their horses again and cantered away to Tel el Jemi, some