The handwritten manuscript called The 4th Brigade Trek from the Canal to Khan Yunis and the 2nd Gaza Battle was produced by 666 Sergeant David Woodward HARRIS of the 12th Light Horse Regiment.
David Woodward HARRIS was a 24 year old Overseer from Turramurra, New South Wales. He enlisted on 30 December 1914 and was allotted to the 12th Australian Light Horse Regiment, AIF, Machine Gun Section, which embarked from Sydney, New South Wales on board HMAT A29 Suevic 13 June 1915.; and at the conclusion of the war Returned to Australia, 20 July 1919.
For further information, see:
4th Australian Light Horse Brigade, AIF
and: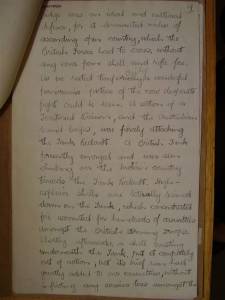 HARRIS, page 9
was an ideal and natural defence, for it dominated miles of ascending open country which the British Forces had to cross without any cover from shell and rifle fire. As we rested temporarily, a wonderful panoramic picture of the now desperate fight could be seen. A section of a Territorial Division and the Australian Camel Corps, were fiercely attacking the Tank Redoubt. A British tank presently emerged and was seen climbing over the broken country towards the Tank Redoubt. High explosive shells were literally rained down on the tank, which concentrated fire accounted for hundreds of casualties amongst the British storming troops. Shortly afterwards, a shell bursting underneath the tank put it completely out of action but its brief run had greatly added to our casualties without inflicting any serious loss amongst the enemy.