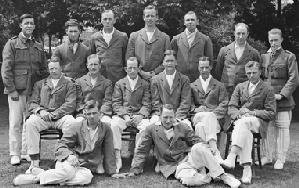 The AIF XI South African Touring Team, 1919
At the conclusion of the Great war, an AIF Test Team XI was selected to tour of South Africa in 1919 as a moral boosting initiative. From 18 October to 12 December 1919, 1919, the team played 10 matches of between 3 to 5 days, depending upon the team they were up against.
This album attempts to documents the features of this series.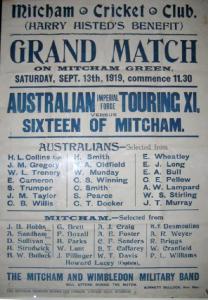 The last game of the AIF Cricket XI in England, 13 September 1919.
The last limited overs, one day match was played by the AIF Cricket XI on 13 September 1919 at the Micham Green against the Mitcham Cricket Club XI selected from a pool of sixteen players. The AIF won by six wickets. The Mitcham Cricket Club XI were bowled out for 200 while the AIF reached that target with the final result of 5 wickets for 207 runs.