The following is a copy of the West Australian London Agent General Cash Account 1899-1902 maintained to record payments made in London on behalf of the West Australian government in support of its troops who were in London from South Africa.
Most of the entries are pay book drawings of soldiers invalided to England for any number of reasons. It is a valuable resource for those researching a relative who might have been in England during this time period.
The other major use of this file was to record the transfer of funds between the Imperial Government and the Western Australian Government in support of the war effort. Some of the transfers are minor while others are quite substantial.
Note - On p. 1, the page numbers of the ledger are detailed. For reference purposes, the original page numbers have been recorded in the picture at the top of the page. Pagination used in this album is for convenience of presentation.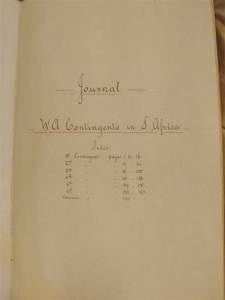 WA Agent General Cash Account, p. 1