The 2nd (LHR) Light Horse Regiment, AIF, as part of the 1st Light Horse Brigade (1st LH Bde) was raised in Queensland in August 1914 as part of the 1st Australian contingent. The Regiment embarked from Brisbane, Queensland on board HMAT A15
Star of England
24 September 1914.
During the Great War, the 2nd LHR saw service in Egypt, Gallipoli, the Sinai Peninsula, Palestine and Jordan. It returned to Australia in March 1919.
For full details of the 2nd LHR, see: 2nd Light Horse Regiment, AIF
The photographs on this page are extracted from The Queenslander, 26 September 1914, 3 October 1914, 10 October 1914, and 17 October 1914.
Finding service information. See: Navigating the National Archives Service File
Should any further details be sought, see Australian Light Horse Studies Centre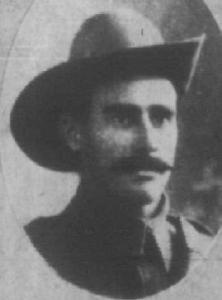 577 Private Maurice Arthur WEEKS
577 Private Maurice Arthur WEEKS, a 32 year old Carpenter from Mullumbimby, New South Wales. He enlisted on 25 August 1914; and at the conclusion of the war, Returned to Australia, 16 January 1919.
2nd Australian Light Horse Regiment, "C" Squadron.