Welcome to the
Gallipoli Album, May 1915
.
As casualties lists from the Gallipoli Campaign became known in Australia from early May 1915, it became a practice to publish a photograph of individuals. These photographs were supplied by the families of the person on the casualty list. There were few photographs published in relation to the number of casualties listed. To give the extent of the human tragedy that unfolded, the photographs were extracted from the various newspapers and placed in this album. Each photograph is clearly identified to an individual and brief details are given as a short biography.
For a comprehensive listing of photographs in the album, see:
Gallipoli Album, May 1915, Contents
Finding service information.
Navigating the National Archives Service File
Should any further details be sought, see Australian Light Horse Studies Centre
Lest We Forget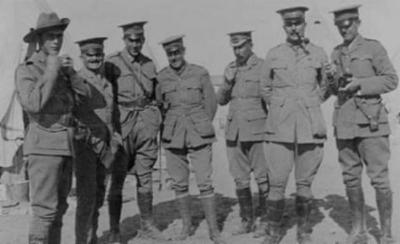 10th Infantry Battalion Officers at Mena Camp, Christmas 1914
Informal outdoors group portrait of several officers from the 10th Infantry Battalion at Mena Camp, Egypt on Christmas Day 1914. The officers are from left to right: Lieutenant Vernon Hermann Robley from Gilberton, South Australia; Captain Edward Castle Oldham from Hackney, South Australia (later Major) and killed in action at Gallipoli on 25 April 1915; Lieutenant Trevor Owen-Smythe from Adelaide, South Australia (later killed in action at Gallipoli on 6 May 1915); Captain George Ernest Redburg from Norwood, South Australia (later Major); Major Miles Fitzroy Beevor from Unley, South Australia (later Lieutenant Colonel) who is smoking a pipe; Captain Francis Maxwell de Frayer Lorenzo from Westbourne Park, South Australia (later Lieutenant Colonel and awarded DSO), the Adjutant, who also has a pipe in his mouth; Captain Ross Blyth Jacob from Kadina, South Australia (later Lieutenant Colonel) who is holding a cigarette in one hand and possibly a pair of binoculars in the other. Behind the men on the left is the tent occupied by the battalion's Regimental Medical Officer.