Welcome to the
Gallipoli Album, May 1915
.
As casualties lists from the Gallipoli Campaign became known in Australia from early May 1915, it became a practice to publish a photograph of individuals. These photographs were supplied by the families of the person on the casualty list. There were few photographs published in relation to the number of casualties listed. To give the extent of the human tragedy that unfolded, the photographs were extracted from the various newspapers and placed in this album. Each photograph is clearly identified to an individual and brief details are given as a short biography.
For a comprehensive listing of photographs in the album, see:
Gallipoli Album, May 1915, Contents
Finding service information.
Navigating the National Archives Service File
Should any further details be sought, see Australian Light Horse Studies Centre
Lest We Forget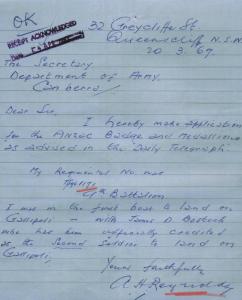 Archibald Henry REYNOLDS, Letter, 20 March 1967
Letter written on 20 March 1967 by Archibald Henry REYNOLDS stating that he was amongst the first men to land at Gallipoli on 25 April 1915.
32 Greycliffe St
Queenscliff, NSW
20 . 3 . 67

The Secretary
Department of Army
Canberra

Dear Sir,

I hereby make application for the Anzac Badge and Medallions as advised in the "Daily Telegraph".

My Regimental No. was
T/Sgt 1171
9th Battalion

I was in the first boat to land on Gallipoli - with James D Bostock who has been officially credited as the Second Soldier to land on Gallipoli.

Yours faithfully
AH Reynolds
Note: James D Bostock =
1109 Private James Dundee BOSTOCK
.
James Dundee BOSTOCK is also attributed in some sources as being the first AIF member to land at Gallipoli on 25 April 1915.