Welcome to the
Gallipoli Album, May 1915
.
As casualties lists from the Gallipoli Campaign became known in Australia from early May 1915, it became a practice to publish a photograph of individuals. These photographs were supplied by the families of the person on the casualty list. There were few photographs published in relation to the number of casualties listed. To give the extent of the human tragedy that unfolded, the photographs were extracted from the various newspapers and placed in this album. Each photograph is clearly identified to an individual and brief details are given as a short biography.
For a comprehensive listing of photographs in the album, see:
Gallipoli Album, May 1915, Contents
Finding service information.
Navigating the National Archives Service File
Should any further details be sought, see Australian Light Horse Studies Centre
Lest We Forget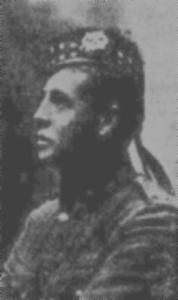 Colin BAYLY
Killed in Action in Belgium.
News has meen received that Lce.-Cnl. Bayly, youngest son of Mr. W. H. F. Bayly, of the Semaphore, was killed in action in Flanders on April 16. He joined the 10th Scottish King's Liverpool Regiment on the outbreak of the war, and proceeded to the front early in November last as a private. After the severe strain of winter service m the trenches he became ill and was invalided back to England during December, but the young South Australian was most anxious to return to the front, and early in March he had his reward. He saw much desperate service up to the day of the engagement which caused his death.
Following is an extract from his last letter to his parents: — "On the train to Southampton, en route for Belgium, March 8/15. We came down to Tunbridge Wells last week, and this morning I am off to the front again in a draft of 120 men. I have been given a stripe, and am now 'Lnc.-Cpl. Colin Bayly.' They have arranged to send out my commission in the Duke of Lancaster's Own Yeomanry when the War Office gazettes it, but I couldn't stand being in England waiting about; hence my departure for the front once more." The old Semaphore boy who has nobly laid down his life was 28 years of age. He was born in this State, and was educated at St. Peter's College. He left Adelaide three years ago to take up engineering in the old country.
The Register, 5 May 1915, p. 7.
3216 Lance Corporal Colin BAYLY, a 27 year old Soldier from South Esplanade, Semaphore, South Australia. He mobilised as a Liverpool Scottish Territorial in the BEF on 4 August 1914 and was allotted to the 1st/10th Battalion The King's (Liverpool Regiment) which embarked from Southampton, England, on board SS Maidan on 1 November 1914. BAYLY was Killed in Action, 10 April 1915, at Voormezeele, Belgium.