Welcome to the
Gallipoli Album, May 1915
.
As casualties lists from the Gallipoli Campaign became known in Australia from early May 1915, it became a practice to publish a photograph of individuals. These photographs were supplied by the families of the person on the casualty list. There were few photographs published in relation to the number of casualties listed. To give the extent of the human tragedy that unfolded, the photographs were extracted from the various newspapers and placed in this album. Each photograph is clearly identified to an individual and brief details are given as a short biography.
For a comprehensive listing of photographs in the album, see:
Gallipoli Album, May 1915, Contents
Finding service information.
Navigating the National Archives Service File
Should any further details be sought, see Australian Light Horse Studies Centre
Lest We Forget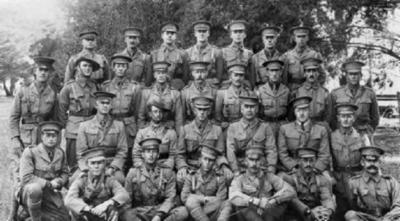 Group portrait of 15th Battalion officers
Group portrait of officers of the 15th Battalion prior to embarkation overseas. Captain (later Major) Quinn [of Quinn's Post, Gallipoli], is second from right, third row. Identified in back row, left to right: Second Lieutenant (2nd Lt) Francis Leofric Armstrong (killed in action 10 May 1915); 2nd Lt John Anderson Good; 2nd Lt John Hill; 2nd Lt Thomas Robertson (killed in action 27 April 1915); 2nd Lt Leo George Casey; 2nd Lt Leslie Norman Collin (killed in action 9 May 1915); 2nd Lt Archibald Douglas. Third row: Captain (Capt) Douglas Herman Cannon; Capt Cyril Frederick Corser; Lieutenant (Lt) Henry Charles. Davies; Lt Nikolai Theodore Svensen; Capt John Foulkes Richardson; 2nd Lt Douglas Stephen Freeman; Capt John Francis Walsh (killed in action 28 April 1915); Capt Hugh Quinn (killed in action 29 May 1915); 2nd Lt George Frederick Dickinson. Second row: 2nd Lt Norman Dickson (died of wounds 27 April 1915); Major (Maj) Robert Eccles Snowdon; Maj Hubert Reginald Carter; Lieutenant Colonel James Harold Cannon; Capt William Organ Willis (killed in action 3 May 1915); Honorary Lt Frederick William Craig. Front row: 2nd Lt Cecil Edwin Snartt; 2nd Lt Samuel William Harry; Lt Harry Kessell; Lt Francis Moran (died of wounds 20 August 1915); Lt Leslie John Walters; 2nd Lt Nicholas O'Brien; 2nd Lt Arthur Gurr Hinman.