Welcome to the
Gallipoli Album, May 1915
.
As casualties lists from the Gallipoli Campaign became known in Australia from early May 1915, it became a practice to publish a photograph of individuals. These photographs were supplied by the families of the person on the casualty list. There were few photographs published in relation to the number of casualties listed. To give the extent of the human tragedy that unfolded, the photographs were extracted from the various newspapers and placed in this album. Each photograph is clearly identified to an individual and brief details are given as a short biography.
For a comprehensive listing of photographs in the album, see:
Gallipoli Album, May 1915, Contents
Finding service information.
Navigating the National Archives Service File
Should any further details be sought, see Australian Light Horse Studies Centre
Lest We Forget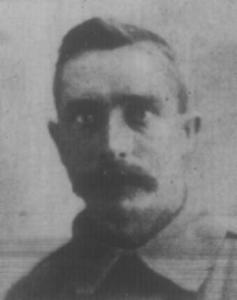 James George ALLEN
601 Private James George ALLEN, a 32 year old Labourer from Richmond Lane, Maryborough, Queensland. He enlisted with the AIF on 22 August 1914 and was allotted to the 9th Battalion, E Company which embarked from Brisbane, Queensland, on board HMAT A5 Omrah on 24 September 1914. ALLEN subsequently was Wounded in Action, 25 April 1915. During the Great War, ALLEN Returned to Australia, 12 March 1918. ALLEN was awarded the Military Medal.
Sydney Mail, 26 May 1915, p. 26.
'On the night 4/5th June 1916 he displayed the greatest coolness and showed great devotion to duty. He was posted with two small groups of "look outs" on the right flank of the new works in sector N.8.3., a very exposed place. Very heavy shell fire developed over this sector and it became necessary to withdraw the garrison with the exception of the above quoted two groups of sentries. It was possible to arrange these groups in comparative safety but the N.C.O. had to continually cross a very exposed area to visit the groups. This he did continually. Shells of all calibres were falling in this area, on one occasion a tree under which the Corporal was passing was struck by a shell and destroyed. Notwithstanding the danger to himself Corporal Allen remained cool and collected and continued to carry out his duties in a manner that can only be described as exemplary, his own calm having a considerable effect on his men. The shelling of this spot lasted for over an hour.'
Commonwealth Gazette, No. 62, 19 April 1917.