Welcome to the
Gallipoli Album, May 1915
.
As casualties lists from the Gallipoli Campaign became known in Australia from early May 1915, it became a practice to publish a photograph of individuals. These photographs were supplied by the families of the person on the casualty list. There were few photographs published in relation to the number of casualties listed. To give the extent of the human tragedy that unfolded, the photographs were extracted from the various newspapers and placed in this album. Each photograph is clearly identified to an individual and brief details are given as a short biography.
For a comprehensive listing of photographs in the album, see:
Gallipoli Album, May 1915, Contents
Finding service information.
Navigating the National Archives Service File
Should any further details be sought, see Australian Light Horse Studies Centre
Lest We Forget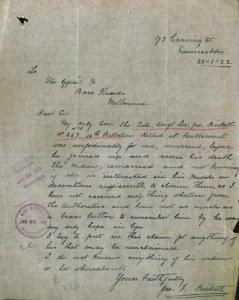 Leslie John BIRKETT - Mother's letter, 23 January 1922
93 Canning St
Launceston
23-1-22
To
The Officer I/C
Base Records
Melbourne
Dear Sir
My only son, the late Sergt Les. Jno. Birkett No 367 or 76 12th Battaliion Killed at Bullecourt was unfortunately for me, married, before he joined up and since his death The Widow, remarried and not knowing if she is interested in his medals or decorations sufficiently to claim them, as I have not received any thing whatever from The Authorities and have not as much as a brass button to remember him by he was my only hope in life.
I beg to put in this clim for anything of his that may be unclaimed.
I do not know anything of his widow or her whereabouts.

Yours faithfully
Jno. F. Birkett
376 Sergeant Leslie John BIRKETT, a 21 year old Letter carrier from 10 Warwick Street, Hobart, Tasmania. He enlisted on 20 August 1914 and was allotted to the 12th Battalion, C Company which embarked from Hobart, Tasmania, on board HMAT A2 Geelong on 20 October 1914. BIRKETT subsequently was Wounded in Action, 25 April 1915, and again was Wounded in Action, 18 October 1915. During the Great War, BIRKETT was Killed in Action, 5 May 1917, at Bullecourt, France.