Welcome to the
Gallipoli Album, May 1915
.
As casualties lists from the Gallipoli Campaign became known in Australia from early May 1915, it became a practice to publish a photograph of individuals. These photographs were supplied by the families of the person on the casualty list. There were few photographs published in relation to the number of casualties listed. To give the extent of the human tragedy that unfolded, the photographs were extracted from the various newspapers and placed in this album. Each photograph is clearly identified to an individual and brief details are given as a short biography.
For a comprehensive listing of photographs in the album, see:
Gallipoli Album, May 1915, Contents
Finding service information.
Navigating the National Archives Service File
Should any further details be sought, see Australian Light Horse Studies Centre
Lest We Forget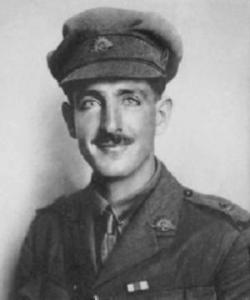 Owen Glendower HOWELL-PRICE
The late Lieut.-Colonel Owen Glendower Howell-Price was the' fourth son of the Rev John HoweIl-Price, of St. Silas' Rectory, Waterloo. As captain he was awarded the Military Cross for conspicuous gallantry at Lone Pine and was decorated personally by the King at Buckingham Palace. He was at Kiama 26 years ago and was one of the youngest lieut.-colonels in the British army. He went away with the 3rd Battalion in October, 1914 as a second lieutenant, and was promoted on the field to lieutenant, then to captain, major, and lieut.-colonel. As a second lieutenant he took part in the famous landing in Gallipoli. He was recalled from the trenches to take up the duties of adjutant. Lieut.-Colonel Howell-Price, who subsequently went to France, was twice wounded on Gallipoli, once on one of his hands and once on the neck. For some years the deceased officer was in the head office of the Commercial Banking Company of Sydney, but three months before the war broke out, he had resigned to go on the land. He was loved by his men.
Lieutenant Owen Glendower HOWELL-PRICE, a 20 year old Farmer from St Mary's Rectory, East Balmain, New South Wales. He enlisted on 27 August 1914 and was allotted to the 3rd Battalion, B Company which embarked from Sydney, New South Wales, on board HMAT A14 Euripides on 19 October 1914. During the Gallipoli Campaign he was Wounded in Action 8 August 1915. Subsequently, in France he Died of Wounds, 4 November 1916.
Sydney Mail, 22 November 1916, p. 27.