Welcome to the
Gallipoli Album, May 1915
.
As casualties lists from the Gallipoli Campaign became known in Australia from early May 1915, it became a practice to publish a photograph of individuals. These photographs were supplied by the families of the person on the casualty list. There were few photographs published in relation to the number of casualties listed. To give the extent of the human tragedy that unfolded, the photographs were extracted from the various newspapers and placed in this album. Each photograph is clearly identified to an individual and brief details are given as a short biography.
For a comprehensive listing of photographs in the album, see:
Gallipoli Album, May 1915, Contents
Finding service information.
Navigating the National Archives Service File
Should any further details be sought, see Australian Light Horse Studies Centre
Lest We Forget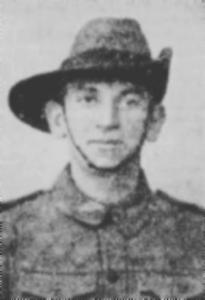 Sydney James Broughton LE SERVE
962 Private Sydney James Broughton LE SERVE, a 30 year old Engineer from 477 Balmain Road, Leichhardit, New South Wales. He enlisted on 12 September 1914 and was allotted to the 2nd Battalion, F Company which embarked from Sydney, New South Wales, on board HMAT A23 Suffolk on 18 October 1914. During the Gallipoli Campaign he was Wounded in Action, 25 April, 1915. He subsequently Returned to Australia 8 September 1919.
Private Sydney James Broughton Le Serve, reported to be wounded, is well known in Leichhardt, where he was born 30 years ago. He left Sydney with the first expeditionary force, as a member of the 2nd Battalion Colonel Braund being the commanding officer. For many years he was connected with the military forces, first as a member of the Australian Rifles and afterwards with the Garrison Artillery, with which body he served four years. He was an enthusiastic footballer, plating the League game for his district, and took great interest in swimming. He resigned the secretaryship of the Leichhardt Swimming Club when he enlisted for the front. His wife and three children reside at Leichhardt. He is a fitter and turner by trade and was employed at the Eveleigh workshops. He comes of a family of soldiers, both on his mother's and father's side. Mr Le Serve, sen. who was of an old Huguenot family, was in the 13th Hussars.
Sydney Morning Herald, 11 May 1915, text p. 8., photograph, p. 14.