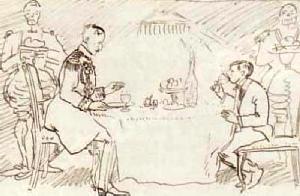 General Henry Merrick LAWSON
During the difficult days of man-power shortage in the Middle East, General Henry Merrick LAWSON, a well known specialist in combing out rear areas for front line soldiers, was sent to Egypt to perform a similar function as he had done on the Western Front.
This album comprises his report. Each report page is posted twice, the first post being a full sized document while the second is of smaller size noted with an "s" at the end of the link.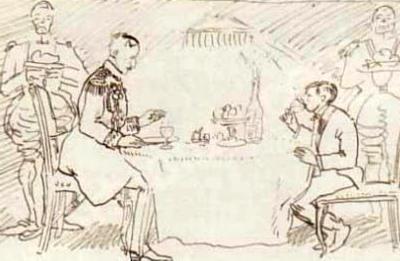 The Author, Lieutenant General Sir Henry Merrick Lawson KCB (30 January 1859 – 1933)
William Orpen sketch of his dinner with Major General Henry Merrick LAWSON, at the Kildare Street Club, 26 January 1907.
Major Sir William Newenham Montague Orpen, KBE, RA, RHA (27 November 1878 – 29 September 1931) was an Irish portrait painter, who worked mainly in London.
Major General Henry Merrick LAWSON, CB 1904, Commanding 2nd Division, Aldershot since 1910, Born Dublin 30 Jan 1859, 4th Son of late Rt Hon James A. LAWSON, Justice of the Court of Queen's Bench, Ireland. Unmarried.
Educated Cheltenham College, RMA Woolwich.
Joined the army as Lt, RE, 1877. Served in Suakin Expedition 1884, Nile Expedition 1884-85 [Brevet of Major]. With Egyptian Army in Soudan Campaign 1898 [dangerously wounded, Brevet of Lt Col], Served in SA War 1899-1902, made ADC to King ; on the Staff as DAAG. Dublin District 1889-92, DAQMG HQ'S of the Army 1893-1898; AAG & DAG and Brig General on the Staff in SA 1899-1903 [Despatches, QSA 4 clasps, KSA, CB].
Director of Movements and Quarterings, War Office 1904-1906; Commanding 13th Infantry Brigade, Dublin, 1906-1907; Maj General in Charge of Administration, Aldershot Command, 1907-1910.
Lt Gen Sir Henry Merrick LAWSON, KCB 1918;
Commanded 2nd Division 1910-1914, Asst to CIGS1914-1915; GOC in Chief Northern Command 1915-1916; On Special Service 1916-1917; Insp Gen of Communications, Italian Exp. Force1917-1918; Grand Officer Order of the Crown of Italy;
Married 16 Nov 1912 Lady Wilma, [CBE 1920], widow of Edward George, 2nd Earl of Lathom, and daughter of 5th Earl of Radnor.
Address:- Grove House, Lymington, Hants.