Welcome to the
Gallipoli Album, May 1915
.
As casualties lists from the Gallipoli Campaign became known in Australia from early May 1915, it became a practice to publish a photograph of individuals. These photographs were supplied by the families of the person on the casualty list. There were few photographs published in relation to the number of casualties listed. To give the extent of the human tragedy that unfolded, the photographs were extracted from the various newspapers and placed in this album. Each photograph is clearly identified to an individual and brief details are given as a short biography.
For a comprehensive listing of photographs in the album, see:
Gallipoli Album, May 1915, Contents
Finding service information.
Navigating the National Archives Service File
Should any further details be sought, see Australian Light Horse Studies Centre
Lest We Forget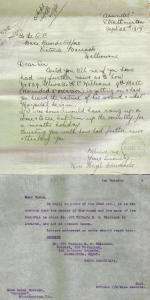 Hubert Coombs WILLIAMS - Hazel Edwards' letter, 22 September 1915
Hazel Edwards' letter
"Arundel"
Strathmerton
Sept 22nd - 1915
To the OC
Base Records Office
Victoria Barrack
Melbourne
Dear Sir
Could you tell me if you have had any further news as to how No 539 Private HC Williams 9th Batt (Wounded 2nd occasion) is getting on + have you heard the nature of his wound + what hospital he is in.
If I were home I would have rang up or come + to see, but I am up the country for a months holiday.
Trusting you will have had further news + thanking you.
Believe me
Yours sincerely
Miss Hazel Edwards
Reply
1st October
Dear Madam
In reply to yours of the 22nd ult., it is regretted that the nature of the wound and the name of the hospital inwhich No 539 Private HC Williams is located, are not at present known.
Letters addressed as under should reach him:-
WOUNDED
No 539 Private HC Williams,
Wounded, 9th Battalion,
3rd Infantry Brigade,
Alexandria, Egypt.
Yours faithfully
539 Private Hubert Coombs WILLIAMS, a 28 year old Draughtsman from Brisbane, Queensland. He enlisted in the AIF on 22 August 1914 and was allotted to the 9th Battalion, E Company which embarked from Brisbane, Queensland, on board HMAT A5 Omrah on 24 September 1914. WILLIAMS subsequently was Wounded in Action, 25 April 1915. During the Great War, WILLIAMS was Wounded in Action, 3 September 1916 and subsequently Died of Wounds, 4 September 1916 at Mouquet Farm, France.
Sydney Mail, 26 May 1915, p. 29.