Welcome to the
Gallipoli Album, May 1915
.
As casualties lists from the Gallipoli Campaign became known in Australia from early May 1915, it became a practice to publish a photograph of individuals. These photographs were supplied by the families of the person on the casualty list. There were few photographs published in relation to the number of casualties listed. To give the extent of the human tragedy that unfolded, the photographs were extracted from the various newspapers and placed in this album. Each photograph is clearly identified to an individual and brief details are given as a short biography.
For a comprehensive listing of photographs in the album, see:
Gallipoli Album, May 1915, Contents
Finding service information.
Navigating the National Archives Service File
Should any further details be sought, see Australian Light Horse Studies Centre
Lest We Forget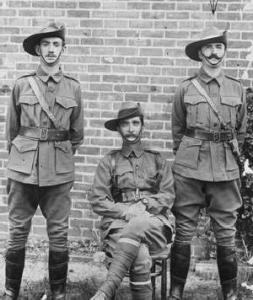 Three Officers from the 11th Battalion
Group portrait of the three officers of E Company, 11th Infantry Battalion who embarked for overseas on 2 November 1914 from Fremantle, Western Australia aboard HMAT Ascanius. Identified standing on the left is Lieutenant (Lt) David Henderson MacDonald, a 25 year old former area officer from Cottesloe, Western Australia. He was wounded in action at Gallipoli on 25 April 1915 but recovered to return to his unit on 25 June 1915. Three days later, on 28 June 1915, he was killed in action and was buried in Shell Green Cemetery, Gallipoli. Sitting in the centre is Major James Samuel Denton, a 38 year old former civil servant from Pazely, Western Australia. He was also wounded in action at Gallipoli on 25 April 1915 and was awarded a Distinguished Service Order for his brave actions on that day. After being evacuated to Egypt for medical treatment, he returned to Gallipoli and then went on to join the 10th Battalion in France. In October 1916 he returned to Australia for three months special leave and then embarked for overseas again on 29 December 1916. After a short time with the 70th Battalion, he was appointed a Temporary Lieutenant Colonel in command of the 49th Battalion on 8 September 1917. He was wounded in action in France on 26 September 1917 and the next day confirmed in the rank of Lieutenant Colonel. After commanding the 3rd Training Brigade, he returned to Australia in early 1919. Standing on the right is Lt Anthony Purdon Hegarty Corley, a 38 year old medical practitioner from Camberwell, Victoria (originally from Pingelly, Western Australia). While serving at Gallipoli, he was promoted to temporary Captain on 16 August 1915 and then killed in action on 17 September 1915. He is buried at Shell Green Cemetery, Gallipoli.
See: