The handwritten manuscript called The 4th Brigade Trek from the Canal to Khan Yunis and the 2nd Gaza Battle was produced by 666 Sergeant David Woodward HARRIS of the 12th Light Horse Regiment.
David Woodward HARRIS was a 24 year old Overseer from Turramurra, New South Wales. He enlisted on 30 December 1914 and was allotted to the 12th Australian Light Horse Regiment, AIF, Machine Gun Section, which embarked from Sydney, New South Wales on board HMAT A29 Suevic 13 June 1915.; and at the conclusion of the war Returned to Australia, 20 July 1919.
For further information, see:
4th Australian Light Horse Brigade, AIF
and: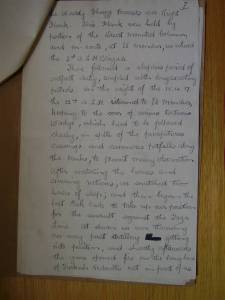 HARRIS, page 7
the Waddy Ghuzze towards our right flank. this flank was held by portion of the Desert Mounted Column and en route, at El Mendur, we relieved the 3rd ALH Brigade.
There followed a sleepless period of outpost duty, coupled with long exacting patrols. On the night of the 18.4.17 the 12th ALH returned to El Mendur, keeping to the cover of various tortuous wadys, which had to be followed closely, in spite of the precipitous crossings and cavernous pitfalls along the banks, to prevent enemy observation. After watering the horses and securing rations, we snatched two hours of sleep; and then began the last trek back to take up our position for the assault against the Gaza Line. At dawn, we were threading our way past artillery getting into position and shortly afterwards the guns opened fire on the long line of Turkish Redoubts out in front of us.