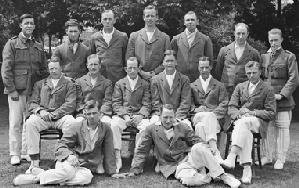 The AIF XI South African Touring Team, 1919
At the conclusion of the Great war, an AIF Test Team XI was selected to tour of South Africa in 1919 as a moral boosting initiative. From 18 October to 12 December 1919, 1919, the team played 10 matches of between 3 to 5 days, depending upon the team they were up against.
This album attempts to documents the features of this series.

2nd Military District Nominal Roll for NSW Team Members of the AIF XI
Included on the Nominal Roll were the following:
Capt C. T. Docker, General List;
Lieutenant J. M. Gregory, 4th Divisional Artillery;
Captain (Capt) E. J. Long, Deputy Assistant Provost Marshal, Weymouth;
Gnr E. Bull, 26th Battery;
Lance Corporal H. L. Collins, 10th AASC;
Corporal E. A. Oldfield;
Gnr J. M. Taylor, 101st Howitzer Battery; and,
Staff Sergeant C. S. Winning, Dental Section, AIF Headquarters (HQ).