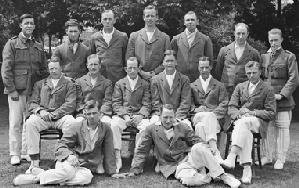 The AIF XI South African Touring Team, 1919
At the conclusion of the Great war, an AIF Test Team XI was selected to tour of South Africa in 1919 as a moral boosting initiative. From 18 October to 12 December 1919, 1919, the team played 10 matches of between 3 to 5 days, depending upon the team they were up against.
This album attempts to documents the features of this series.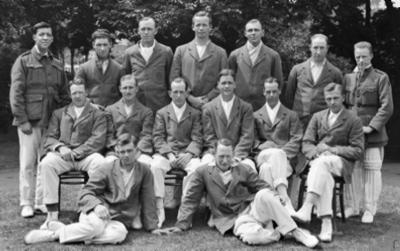 The AIF XI Team
AWM Caption:
London, England. June 1919.
Group portrait of members of the AIF Cricket Eleven, which toured the United Kingdom from May to September, 1919, at Lords Ground.
Back row, left to right:
Staff Sergeant C. S. Winning, Dental Section, AIF Headquarters (HQ); Sergeant H. S. Love, Australian Army Service Corps (AASC); Gunner (Gnr) J. T. Murray, 103rd Battery; Gnr E. Bull, 26th Battery; Lieutenant J. M. Gregory, 4th Divisional Artillery; Captain (Capt) E. J. Long, Deputy Assistant Provost Marshal, Weymouth; Corporal E. A. Oldfield.
Middle row:
Capt C. T. Docker, General List; Capt C. E. Pellew, 27th Battalion; Lance Corporal H. L. Collins, 10th AASC; Capt C. B. Willis, Dental Section; Sgt A. W. Lampard, 10th AASC; Capt W. L. Trennery, 17th Battalion.
Front row:
Gnr J. M. Taylor, 101st Howitzer Battery; Warrant Officer W. S. Stirling, AIF Headquarters, Records Section.
They are wearing the official team blazer with the AIF rising sun emblem on the pocket.